In a multi-part retrospective to commemorate the site's 10th Anniversary, we take a look back at every year of the site's existence.
2009: The Year in Review (So Far)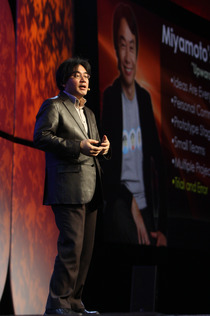 Satoru Iwata at GDC 2009
Even though we're only a few months into 2009, there's already been a lot of stuff worth talking about on the Nintendo front. Virtual Console kicked off the new year properly with news that Super Smash Bros. would be appearing in Japan, although no U.S. date has yet been announced. There was also the curious news from the Wii hacking community that they had discovered a previously undocumented chip on the console's graphics chipset, along with the fact that DVD playback was available, but disabled, in the Wii hardware.
While it's easy to think that gaming exists in a bubble, it is affected by real world events just like any other industry. The impact of the world's economic downturn is definitely being felt this year. Even Satoru Iwata was quick to warn Nintendo workers not to underestimate the "critical nature" of the global situation, despite his company's unbelievable success. Fortunately, the fact that Nintendo's products have become so mainstream that they're being incorporated into school curriculums means that the Big N may be as "recession proof" as you can get these days.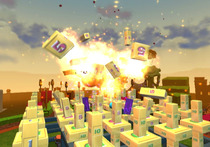 Boom Blox: Bash Party is a big third-party release this year
That doesn't mean Nintendo was without its detractors. 2K Games' President complained of too many crappy Wii games making it hard for third-party games to stand out from the crowd, but maybe that had to do with the fact that his Christmas sales numbers didn't look as good as they did for some other companies. There were several counterpoints to this argument as January wore on, including key third-party game announcements like Boom Blox: Bash Party from EA, and a new TMNT fighting game from Ubisoft. Iwata himself also reminded us that there were thirty third-party million sellers as of the end of 2008. It was slowly becoming clear that third-party games can and do sell on Wii.
In site news, January saw the departure of longtime Director Steven "Windyman" Rodriguez, with former Reviews Editor Jon Lindemann stepping up to fill the role. Some readers were encouraged and some were skeptical, but one thing was for sure: everybody had an opinion on the change.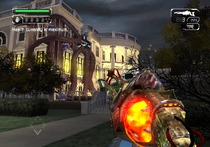 Gorgeous environments, cool weapons...and no split-screen multiplayer
Things weren't changing much for Nintendo, however. February began with more proof that Nintendo's games were selling like hotcakes. While this was no surprise, Hudson managed to catch us all off-guard by announcing Onslaught, a WiiWare game that was, of all things, a first person shooter featuring online play for up to four players. First-person shooters seemed to be all the news rage in February, as High Voltage disappointed fans by revealing that their upcoming The Conduit would have no local multiplayer, effectively blaming Nintendo. They also later explained away the absence of rumored Wii MotionPlus support, but it didn't remove the bitter taste in the mouths of many gamers.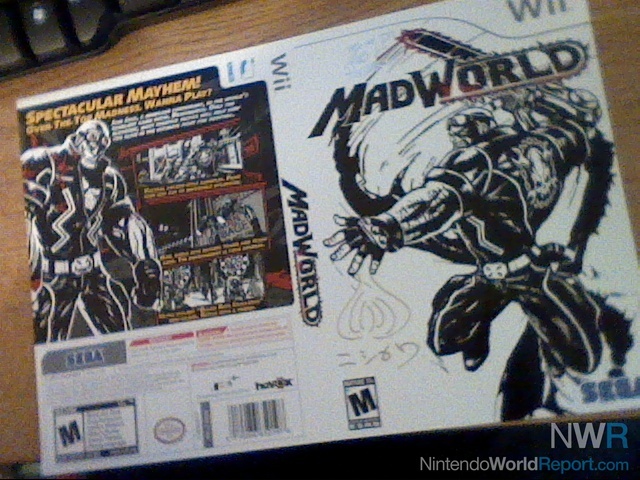 Neal got autographed MadWorld box art at NYCC 2009
The key game industry event in February was the 2009 New York Comic Convention, attended by our own Neal Ronaghan. Neal came back with tons of impressions, some great swag, and even made a video blog with his girlfriend about her experiences playing RooGoo: Twisted Towers at the show. Neal Ronaghan: Renaissance Man.
While Neal and his girlfriend certainly weren't at a loss for words, Electronic Arts was following their announcement of a $641 million loss for 2008. The good news? This meant that they would be bringing more games to the Wii, and a Dead Space title would be among them. The bad news? The Dead Space title in question was yet another on-rails shooter that wouldn't support WiiMotion Plus. Wii gamers were growing tired of getting passed over by the "main" entries in major series, only receiving spin-off titles instead.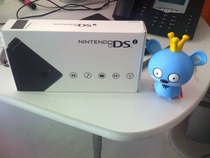 This image of the official DSi box leaked on NeoGAF a day before its announcement
The rest of February was dominated by news about Nintendo's upcoming handheld, the DSi. The media frenzy began with a NeoGAF forum poster leaking what looked to be first images of the final DSi retail packaging. We knew that finished retail packaging meant that a release announcement was imminent, and Nintendo proved us right the very next day. The European and Australian release dates were announced shortly thereafter.
Another curious news tidbit came to light around this time. Masahiro Sakurai, father of the Smash Bros. franchise, announced that he was forming a new game studio with Nintendo called "Project Sora". Considered a Nintendo second-party developer, the studio embarked on a two-year project (apparently due in 2011) to produce an entirely new "traditional" game that is not connected to the Smash Bros. franchise whatsoever. Speculation ran wild as to what this new game might be.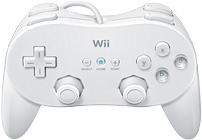 The Classic Controller PRO was announced...for Japan
As the month wound down, Nintendo still had a few more announcements up its sleeve. Japan would get an updated version of the Wii's Classic Controller , even though it they later stated that it was staying there . On a more positive note, the Starfy series was finally coming stateside, along with a new game called Excitebots: Trick Racing . It was a tradeoff that we could all live with.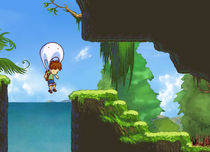 The sequel to A Boy and His Blob is looking great
March started off with another pair of huge game announcements. WayForward revealed a sequel to the NES cult hit A Boy and His Blob, while Harmonix dropped a bomb about their upcoming Beatles Rock Band game.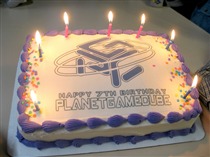 March 7th was our 10th Birthday! (Note: new cake on backorder)
An important site milestone was reached on March 7th, as Nintendo World Report celebrated its 10th Anniversary! We kicked it off with an address from site founder Billy Berghammer, and immediately launched into a ten-year retrospective to mark the occasion.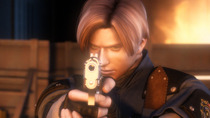 Leon is back and armed in Darkside Chronicles
While we were doing our best to serve our audience, Capcom did exactly the opposite a few days later by unveiling yet another on-rails shooter for Wii. They also hopped on the "GameCube remake" bandwagon by announcing Wii retoolings of Resident Evil and Resident Evil Zero. While some gamers were pleased that the well-received Umbrella Chronicles was getting a sequel, many were unimpressed by yet another Wii franchise spin-off.
The ongoing industry theme of studio consolidation continued in the month of March, as Namco Bandai acquired D3 Publisher and Square Enix bought out struggling Eidos. The ramifications of the poor economy were definitely being felt in the supposedly "recession-proof" game industry, further evidenced by staff cutbacks at THQ.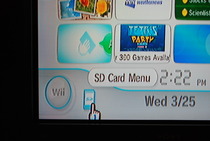 The Wii SD Card Menu made all of our lives easier
But the industry kept rolling along, right into Game Developers Conference 2009. NWR's Chuck Jose and Aaron Kaluszka attended the event, witnessing some very notable Nintendo announcements at Satoru Iwata's keynote presentation. The one that pleased longtime Wii gamers the most was the introduction of Nintendo's long-awaited "storage solution", the Wii SD Card Menu. Thanks to this update (which was impressively put live for Wii owners to download while Iwata's keynote was going on), the "fridge cleaning" necessitated by heavy use of Nintendo's Virtual Console service was a thing of the past.
Nintendo also treated GDC 2009 as an opportunity to release some game-related news. They showed a new trailer for Punch-Out!! on Wii and announced that actual arcade games would be available on Virtual Console, but they saved the best for last. Iwata's keynote was closed with the news that a new Zelda game would be released for the Nintendo DS in 2009. This was positive news, indeed.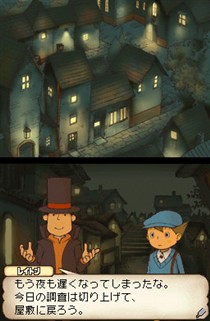 Professor Layton and Luke's voice will be back
As the conference continued, fans were treated to more good news from Level-5 CEO Akihiro Hino. The second entry in the Professor Layton series was being localized for the American audience, with hopes that the remaining four games in the series would be as well.
2009 has been a good year so far. Wii releases, MadWorld and House of the Dead: Overkill have gone against perception in terms of mature content on the console, and the New Play Control! series has put a new coat of paint on Pikmin and Mario Power Tennis. We've also seen the DS get another Dragon Quest remake, a Grand Theft Auto title, and a new Pokémon game. That's all in a three-month span, which is very impressive.
Punch-Out!! looks undeniably awesome
Other upcoming titles like Punch-Out!!, The Conduit, Sin & Punishment 2, and The Legend of Zelda: Spirit Tracks loom on the horizon. This is a solid lineup for any year, but it looks to get even better since Nintendo still has yet to reveal its entire 2009 game lineup. For example, we have no idea what the big Wii title will be for Christmas 2009, and details on the late-year DS lineup are sketchy at the moment. However, the one thing you can be assured of is that Nintendo World Report will be there to cover it all!
Notable Console Releases
Notable Handheld Releases
Notable WiiWare Releases
Notable Virtual Console Releases
Castlevania III: Dracula's Curse (NES)
Life Force (NES)
Alex Kidd: The Lost Stars (SMS)
Kirby's Dream Land 3 (SNES)
Ogre Battle: The March of the Black Queen (SNES)
MUSHA (GEN)
Bomberman '94 (TG16)
The Last Ninja (C64)
Summer Games II (C64)