In a multi-part retrospective to commemorate the site's 10th Anniversary, we take a look back at every year of the site's existence.
(Likely) 1999 NWR Handheld Game of the Year
by Jon Lindemann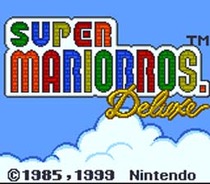 Super Mario Bros. Deluxe (GBC)
Developer: Nintendo R&D2
Publisher: Nintendo
Release Date: May 1, 1999
Why Would It Have Won? First off, it's Super Mario Bros., one of the best games in history. But instead of a straight-ahead re-release – which Nintendo easily could have done and sold good numbers, let's be honest – the Big N decided to jam-pack SMB Deluxe with a ton of extra features that made it too good for gamers to pass up. It added an all-new 2-Player Vs. mode (a race to the flag between Mario and Luigi) and Challenge mode (find coins and a Yoshi egg, and beat a preset score), GameBoy Printer interactivity, a calendar(!), the ability to save your game, a map screen…and oh yeah, several of the levels from Super Mario Bros. 2: The Lost Levels. That's quite a package, and its quality was undeniable. It went on to sell almost 3 million copies and copped a perfect 10/10 score from one or two from critics along the way.
Is It Still Worthy? Hell yeah. There are still NWR staffers that play Super Mario Bros. Deluxe to this day. The game itself is a pixel-perfect port of an absolute classic (aside from screen resolution constraints), and all the extra content made it a release for the ages. Super Mario Bros. has been re-released on other platforms in the last ten years, but never in a package as complete and robust as this one.