In a multi-part retrospective to commemorate the site's 10th Anniversary, we take a look back at every year of the site's existence.
2008: The Year in Review
by Carmine M. Red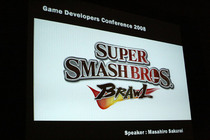 Brawl ruled the year, starting in February at GDC 2008
2008 was the year when WiiWare launched. It was the year when the DSi was revealed. It was the year when Nintendo absolutely rocked the first six months. It was the year when everyone criticized them for not doing so over the next six. It was the year when the bubble didn't burst. It was the year when the world of Nintendo gaming did anything BUT slow down, and it was yet another year for everyone at the site to do everything they could to keep up with it all.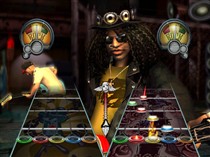 The Guitar Hero franchise sold big on Wii and DS
Actually, a major factor in 2008 being such a whirlwind was 2007. Guitar Hero III: Legends of Rock, one of 2007's biggest hits, had a bug that prevented it from playing any form of stereo sound. Just a few days into the new year, news broke that Activision was letting gamers pre-register to receive replacement discs with the bugs fixed. Eventually Activision also offered a refund to gamers who couldn't stand the issue. Still, Wii gamers kept buying Guitar Hero III in droves for many months into 2008, a fidelity that was amply rewarded when Guitar Hero: World Tour landed on the Wii later that year with all the bells and whistles - including downloadable content - that the other consoles had.
And speaking of sales, that's another story that 2008 inherited from 2007. Both the Wii and DS continued to sell at breakneck speed, taking top spots in the hardware sales charts month after month after month. Not even Grand Theft Auto IV's release on other systems could halt Nintendo's dominance. With new predictions and explanations, analysts continued to predict that the Wii shortages would end throughout the year. However, by the end of 2008, record sales had NWR Staffer Nick DiMola asking one question: "What Bubble?"
Nick's rebuttal to Wii doubters came in a new format for NWR: the blog. Indeed, thanks to a staff bursting with opinions and observations, the blog quickly became a home not just for gaming observations, but for posts about honeymoons, movie reviews, and even... dinosaurs? Actually, that particular blog post wasn't about dinosaurs but azhdarchid pterosaurs. If not for the NWR blogs, many might still be in the dark about Staff Writer Zachary Miller's love for all things Mesozoic.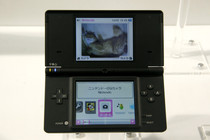 The Nintendo DSi added two cameras, along with support for SD cards and DLC
But whereas dinosaurs are extinct, the world of gaming continues to evolve. One such evolution was the Wii's downloadable software service WiiWare, the launch of which the site covered in May. Nintendo had promised a venue that was friendly to smaller developers too, and the rewards were games like Lost Winds, World of Goo, and Toki Tori, to name a few. Soon Nintendo extended this same opportunity to the handheld scene when they announced the DSi at their Fall Media Summit. But what really caught everyone by surprise was Nintendo's addition of not just one, but two cameras to the DSi. The Japanese already know what that's all about, but gamers in America and Europe were left waiting for the April 2009 release date to get their hands on the little handheld that, to steal a Sony PSP marketing pitch, takes portable gaming out of the ghetto.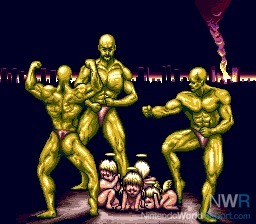 Super Mario RPG on Virtual Console was nice, but Cho Aniki was better
Although the WiiWare service grabbed the spotlight in 2008, Nintendo's Virtual Console service was still going strong. There were some great strings of releases including the first three Mega Man games and Phantasy Star II-IV, but two games stood tall in our year-end awards voting. Super Mario RPG grabbed the award as the best VC game from a Nintendo system, and Cho Aniki stole our hearts and received the award for best game from a non-Nintendo system.
The DS turned four in 2008, and by then it had won its way into the hearts of gamers of all stripes. Nintendogs and Castlevania could be played on the same system and nobody batted an eye. The biggest sign of acceptance might have been Guitar Hero: On Tour. When Activision moved heaven and earth to put their music rhythm game on Nintendo's handheld - going so far as to come up with an amazingly innovative accessory that plugged into the GBA slot - it became pretty clear that while many laughed at the DS in 2004, they were too busy playing the handheld to second-guess it in 2008.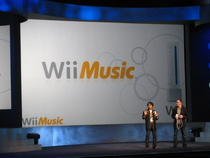 The controversial Wii Music polarized the Wii audience
However, the two-year-old Wii was denied the same level of acceptance. Ever since the console's launch gamers had been debating its worth and relevance, especially as it pertained to so-called "hardcore" tastes. These criticisms were constant, but relatively low key in the first half of 2008 due in large part to Super Smash Bros. Brawl along with a selection of key third party offerings. But after E3, Nintendo's remaining major 2008 releases contained nothing more extreme than baseball (Mario Super Sluggers), trampling flowers (Animal Crossing: City Folk), and simply shaking the hell out of bad guys (Wario Land: Shake It!). Nintendo's unveiling of Wii Music, which NWR got to play at E3 2008, drew an especially negative response and went on to achieve sales that were much more modest than Nintendo's other Wii-branded titles. The end result of this soft line-up was that it opened a large window in the fall for something, anything, to fill the void. Did third parties step up? Well, not to anyone's satisfaction.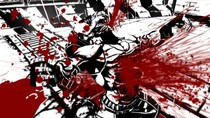 MadWorld's unveiling was so shocking that even Soccer Moms stopped Wii bowling
2008 still saw the hardcore Wii gamer waiting for the rest of the industry to catch up. Oh, to be sure, third parties talked a great deal in 2008. The year saw the announcements of blood-soaked 2009 releases like MadWorld and House of the Dead: Overkill. More information was revealed about future Japanese RPGs like Fragile and Arc Rise Fantasia. Gamers were promised a Wii Tecmo Bowl. Capcom offered Spyborgs as a future Wii exclusive, but critical backlash in response to the game's initial images drove the project back into hiding.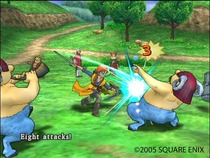 Dragon Quest: coming soon to a Wii near you (above: DQ VIII on PS2)
But the greatest third-party announcement came at the tail-end of the year: Dragon Quest X was coming to the Wii. Square Enix's series was the epitome of a hugely successful, hardcore Japanese RPG, and for it to return to Nintendo consoles (Dragon Quest IX had been revealed for the Nintendo DS in 2007) was nothing short of a "megaton" announcement for many fans. But for all that the future of the Wii seemed to be getting brighter, criticisms about what was available for play in 2008, especially the latter half, didn't stop.
It's ironic that despite conquering the console industry, garnering exclusives, and accruing additional third-party million sellers, the Wii represented little more to many devoutly traditional gamers in 2008 than unfulfilled potential. Was the third party situation on Nintendo consoles getting better, or worse? At the end of 2008, that was still an open question.
And that's how Nintendo's 2008 ended, with a strange feeling of uncertainty for the future despite all its success. Nintendo's sales pace was unrelenting, but the economy was entering a recession. The Wii was the console market leader, but would it receive the support and games that it seemed to lack? The DS was unquestionably the handheld king, but was the DSi worth lining up for a third time, to buy what was in many respects the same hardware?
The answers will be revealed as 2009 unfolds, and Nintendo World Report will be there.
Notable Console Game Releases
Notable Handheld Game Releases
Notable WiiWare Game Releases
Notable Virtual Console Game Releases
1080° Snowboarding (N64)
Adventures of Lolo 2 (NES)
Alex Kidd: The Lost Stars (SMS)
Art of Fighting 2 (NEOGEO)
Boogerman: A Pick and Flick Adventure (SG)
Cho Aniki (TG 16)
Cruis'n USA (N64)
Double Dragon (NES)
Earthworm Jim (SG)
Fantasy Zone (SMS)
Fatal Fury 2 (NEOGEO)
Gradius II: Gofer no Yabou (TG CD)
Harvest Moon (SNES)
King of the Monsters (NEOGEO)
Kirby 64: The Crystal Shards (N64)
Lords of Thunder (TG CD)
Mario Golf (N64)
Mega Man (NES)
Mega Man 2 (NES)
Mega Man 3 (NES)
Mega Turrican (SG)
Metal Slug (NEOGEO)
Metal Slug 2 (NEOGEO)
Ninja Combat (NEOGEO)
Ninja Gaiden III: The Ancient Ship of Doom (NES)
Phantasy Star II (SG)
Phantasy Star III: Generations of Doom (SG)
Phantasy Star IV: The End of the Millennium (SG)
Pokémon Puzzle League (N64)
Psychosis (TG 16)
Puyo Puyo 2 (SG)
River City Ransom (NES)
Samurai Shodown (NEOGEO)
Samurai Shodown II (NEOGEO)
Secret of Mana (SNES)
Shining Force II: Ancient Sealing (SG)
Space Harrier (SMS)
Splatterhouse 2 (SG)
Star Parodier (TG CD)
Star Tropics (NES)
Super Fantasy Zone (SG)
Super Mario RPG: Legend of the Seven Stars (SNES)
Super R-Type (SNES)
Super Street Fighter II: The New Challengers (SNES)
Super Turrican (SNES)
Super Turrican 2 (SNES)
The King of Fighters '94 (NEOGEO)
Vectorman (SG)
Wonder Boy (SMS)
Wonder Boy in Monster Land (SMS)
Yoshi's Cookie (NES)
Ys: Book I & II (TG CD)
Zoda's Revenge: StarTropics II (NES)