In a multi-part retrospective to commemorate the site's 10th Anniversary, we take a look back at every year of the site's existence.
A Decade of PGC/NWR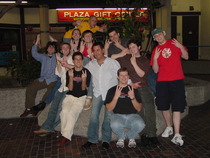 Left to right: Jeff Shirley, Evan Burchfield, Daniel Bloodworth, Michael Cole, Mike Sklens, Jon Lindemann, Billy Berghammer, Steven Rodriguez, Jonathan Metts, Chris Kohler, Mike Gamin at E3 2006
Ten years is a long time. What were you doing ten years ago? I bet it was quite different from what you're doing today. At Nintendo World Report we've bucked that trend, and we're actually doing the same thing now that we were ten years ago: consistently providing some of the best Nintendo coverage on the web. We started out small in 1999, but in the decade that's followed we've steadily grown into the site that you're reading today.To commemorate this milestone, the NWR staff has combined forces to give you a retrospective of each year we've been online.
We've chronicled our picks for Game of Year (both console and handheld), Nintendo news, and site news for every year since 1999. We're going to be rolling out one year each day until we're done, so sit back and enjoy! Be sure to click through to all the links that we've included; they tell quite a story, and are the products of our meticulous research in the NWR archives (ha!).
Here's a breakdown of the writers for each piece:
1999 - Jon Lindemann
2000 - Justin Nation
2001 - Michael Cole
2002 - Jonathan Metts
2003 - Michael Cole
2004 - Aaron Kaluszka
2005 - David Trammell
2006 - Nick DiMola
2007 - Neal Ronaghan
2008 - Carmine Red
2009 - Jon Lindemann
Allow us to be your hosts for this trip through time. Sit back and enjoy the ride!
- Jon Lindemann, Director