In a multi-part retrospective to commemorate the site's 10th Anniversary, we take a look back at every year of the site's existence.
2003: The Year in Review
by Michael Cole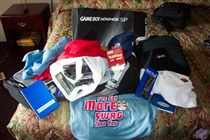 So much swag, it burst out of the bag!
With Super Mario Sunshine and Metroid Prime released in 2002, the GameCube's momentum was really building. 2003 did not disappoint.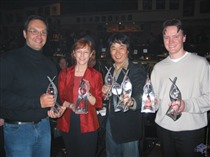 D.I.C.E. 2003: Seven Awards for Nintendo
Several key events kicked off the year. No, we're not talking about the space shuttle Columbia tragedy. We're talking about Nintendo games and hardware! Billy got his grubby mitts on the Game Boy Advance SP before it came out at CES, we got excited over F-Zero GX/AX at the AOU Amusement Entertainment Expo, and Nintendo won a lot of awards at the D.I.C.E. Summit.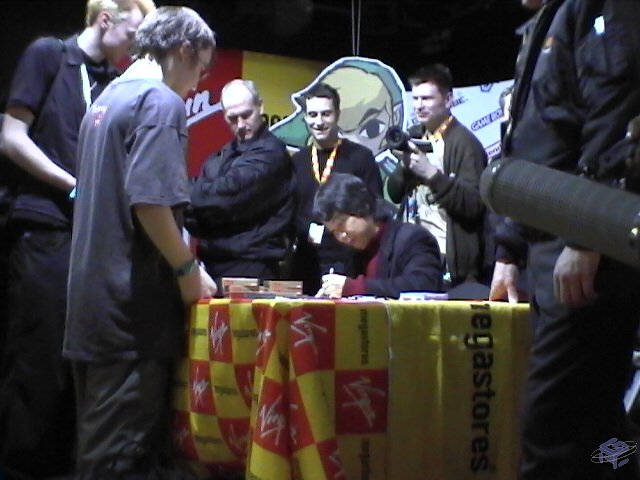 Miyamoto Signs Autographs in London
Shigeru Miyamoto was very busy, meeting fans in London and conducting roundtable interviews in anticipation of The Legend of Zelda: The Wind Waker. At Game Developers Conference in March, Gunpei Yokoi was posthumously given lifetime achievement award, GameSpy was revealed to be working with Nintendo on an online network, and PGC uncovered a turd brown GameCube development kit.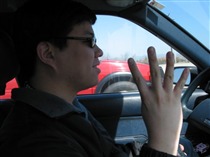 GDC 2003: Mike Suzuki Celebrates Four Years
The PGC staff was scheming things of their own when not playing the Master Quest or import copies of Soul Calibur II. We re-launched our forums, and for no apparent reason, Billy gave an in-depth report on the ill-fated Nokia N-Gage (Sidetalkin'!). The ever-curious Rick Powers went on a field trip to Nintendo's packaging center in North Bend, WA. To celebrate the then-monumental fourth anniversary, we held a huge contest with tons of prizes (how did we pull this off?!) to determine who was the ultimate Nintendo fan. Surely the winners were ecstatic! On the bittersweet news front, Sega canceled GameCube versions of its sports games and know-nothing analysts claimed Nintendo should go third party, but we got our first glimpse of WarioWare, Metal Gear Solid was confirmed for GameCube, and Nintendo opened a mysterious new Tokyo branch (which would go on to create Donkey Kong Jungle Beat and Super Mario Galaxy).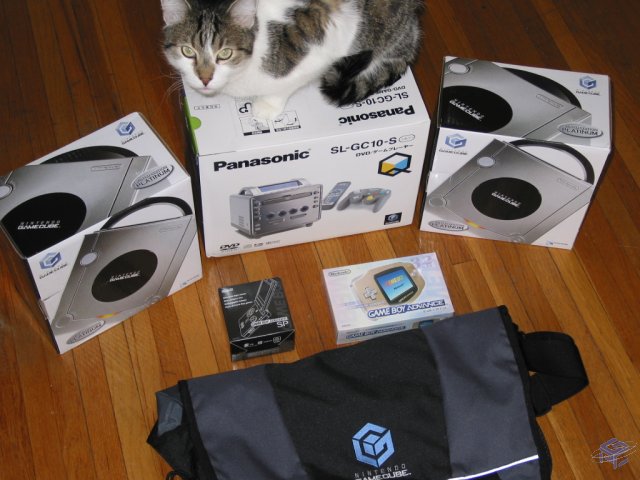 Louie Guards the Prizes
And then the face of Planet GameCube was changed forever….quite literally. On April 18th, 2003, charismatic site founder and director Billy Berghammer resigned from Planet GameCube to "take [his] career to the next stage" by heading up Game Informer Online.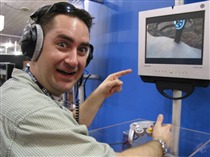 Did I Do That?
And so, with Jonathan Metts at the reigns, PGC dashed into E3 2003 at full speed, hot on the trail of new Pikmin 2, F-Zero, and Mario Kart details. E3 2003 was huge. Perhaps not 2002 huge, but there was still a lot to cover! Aside from the new game announcements, we had a smorgasbord of impressions of everything from Beyond Good & Evil to F-Zero . We also caught up with our old friend Denis Dyack to talk about Metal Gear Solid: The Twin Snakes (and The Matrix Reloaded), and chatted with Charles Martinet (who had a very special message for PGC) about the Nintendo booth, interacting with fans as Mario and Wario, and real-life heroism.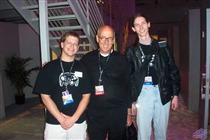 Peter Main Meets the New Director
In the aftermath of E3, we heard initial rumblings of $60 games in the next generation, titles began to trickle out, and Sega had one of its many reorganizations. We also gave you a comprehensive report on the Game Boy Player, gave readers a chance to win some Advance Wars 2 swag, and reported in shock as Masahiro Sakurai
quit his position at HAL Laboratory.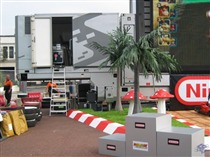 Mario Kart Decor
With Mario Kart well on its way, Nintendo was eager to promote its line-up via its awkward Fusion Tour in America, and by participating in London Games Week in Europe. Perrin Kaplan had a baby while playing Donkey Kong Country, and September's Tokyo Game Show hailed bizarre announcements such as the iQue and Pokemon Fire Red & Leaf Green's gimmicky Wireless GBA Link.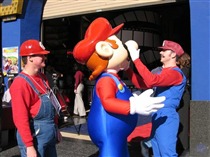 The Marios Clown Around
Predictably, the year closed out with lots of people playing some awesome games, no doubt partly due to the GameCube's new low price of $99.99. The Warp Pipe and XLink projects helped us unofficially play Mario Kart: Double Dash!! online, Miyamoto got yet another award, Mario got his own wax statue (and a poorly coordinated look-alike contest), and omnipresent businessman Hiroshi Yamauchi started another pet project. As 2003 came to a close, things seemed to be winding down for the GameCube and GBA; but 2004 would make it clear that both systems still had some spunk left in them.
Notable Console/Arcade Game Releases:
Notable Handheld Game Releases: