In a multi-part retrospective to commemorate the site's 10th Anniversary, we take a look back at every year of the site's existence.
1999: The Year in Review
by Jon Lindemann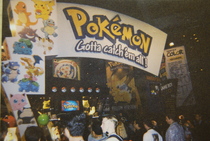 Nintendo's Pokemon Yellow Booth at E3 1999
1999 was obviously a huge year for the site, as we went live with a bang on March 7th. Scott McCall's legendary website N64HQ had closed its online doors two years prior, and two of its senior writers - Billy Berghammer and Justin Nation – had gone on to form their own websites. Billy started PlanetN2000, while Justin founded OperatioN2000. Billy also wrote for OPN2000 for a brief period, indicative of the close relationship the two sites shared. When Justin decided to shut down OPN2000 in October 1999, the sites decided to merge and started on the path that would eventually lead to the christening of Planet GameCube, and its evolution into Nintendo World Report.
In these early days, PlanetN2000 was more of what would now be considered a blog than anything else, but it was pretty obvious that Billy was confident that the site would be around for a long time. In retrospect, some of the stories that he posted this first year can't help but elicit some chuckles, such as Retro's first GameCube game, Retro's GameCube launch lineup, rumors of a Star Wars fighter, and Billy becoming John Romero's bitch. The year ultimately ended on a sour note, with Billy getting ganked on Christmas Eve by the well-known criminal element in Milwaukee.
While Billy didn't make it to E3 1999, in an ironic twist current site Director Jon Lindemann did - with a competing website. While covering the show as well as an E3 rookie possibly could, he managed to pal around with Pikachu...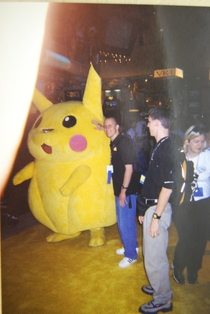 ...as well as get a picture with not just one...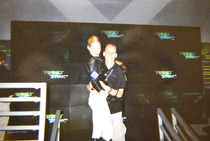 ...but TWO of the Perfect Dark booth girls.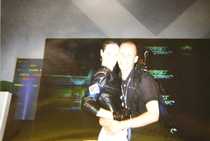 All in a day's work for our intrepid Director. A serious journalist, that one. As a follow-up, he managed to get a letter about Donkey Kong 64 printed in an edition of Rare's Scribes mailbag. That's quite a year, Lindy!
There was plenty of other Nintendo news to cover in 1999. The gaming world was still recovering from the post-Legend of Zelda: Ocarina of Time hangover, and many people were still playing it at the start of the year. The Nintendo 64 and GameBoy Color were still front and center, with Donkey Kong 64, Resident Evil 2, and Pokémon Yellow positioned as the big Christmas titles on the two platforms. Rumors of a looming sequel to Ocarina persisted, and there were also rumblings of a successor to the GameBoy Color being queued up for release in 2000.
Yes, in 1999 the Nintendo faithful still assumed that both a new console and new handheld would release the next year. When the "Project Dolphin" name was revealed in early May, and then followed up by a pre-E3 revealing of the console's technical specifications and a closed-door showing, a 2000 release seemed imminent. However, a mere month after E3 there were already reports that the 2000 date was a bluff on Nintendo's part, and as the year wore on this fact became more and more obvious to industry observers.
Still, Nintendo remained steadfast on the 2000 date until the end of the year, even going so far as to state that the console would "surface in 2000" in a year-end article on their homepage. This mystery was disconcerting to those following the development of the upcoming console, especially with Sony's Playstation 2 already being announced and given a firm Japanese release date. That Japan didn't seem to be enthusiastic about a next-gen Nintendo console anyways only added to the concern surrounding the impact of a delay.
Things were rosier on the handheld side of the business, however. The GameBoy Advance was announced in September, prompting speculation that it would be released the following year, possibly as early as March 2000 to combat the release of the Playstation 2. Summer and Christmas releases were also rumored.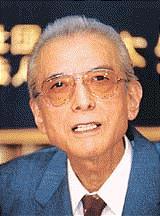 Hiroshi Yamauchi
Another ongoing subplot was the status of Nintendo President Hiroshi Yamauchi. He had hinted at his impending retirement for a while, and since he was in his seventies, everybody knew the clock was ticking. The word was that he would hang it up in 2001. Shigeru Miyamoto assumed at the time that his successor would be long-time Nintendo of America President Minoru Arakawa, but nobody could be sure of what the future would hold.
Since the GameCube hadn't even been officially named in 1999, there wasn't much information available besides its technical specifications and a whole lot of rumors. As a result, PlanetN2000's specialty was, well, Specials. One trademark of the site were articles describing the "dream games" that each writer wanted to see on Project Dolphin, including a wish list of the functionality they wanted in each one. These dream games included Wave Race 2000 (Justin's call for 64DD support and Billy's desire for online play have yet to be fulfilled), Ultra Mario Kart (they would have to wait nearly a decade for the console online play they craved, and CptnSisko's assertion that GameCube would have "imagery akin to 'A Bug's Life'" is hilarious nowadays), and Mario Anthology (which has yet to materialize). Ten years have passed, yet in many ways Nintendo fans have similar wishes, gripes, and concerns in 2009 as they did in 1999 about online play, graphics, and storage.
In many ways, 1999 was a year of beginnings. The seeds of the GameCube and GameBoy Advance were sown, and even though they were still a ways away, there was plenty to look forward to. The GameBoy Color was still going strong with huge hits like Super Mario Bros. Deluxe, Mario Golf, and Pokémon Yellow, and the Nintendo 64 had more juggernaut games waiting in the wings. And in the midst of it all was fledgling pioneer PlanetN2000. It was from these humble beginnings that our website would rise to become one of the best Nintendo enthusiast sites on the web, ten years and running.
Notable Console Game Releases
Beetle Adventure Racing (N64)
Castlevania 64/Castlevania: Legacy of Darkness (N64)
Custom Robo (N64)
Donkey Kong 64 (N64)
Goemon's Great Adventure (N64)
Jet Force Gemini (N64)
Magical Tetris Challenge (N64)
NBA Courtside 2 featuring Kobe Bryant (N64)
Pokémon Snap (N64)
Rayman 2: The Great Escape (N64)
Resident Evil 2 (N64)
Rocket: Robot on Wheels (N64)
Super Smash Bros. (N64)
WWF Wrestlemania 2000 (N64)
Notable Handheld Game Releases
Conker's Pocket Tales (GBC)
Game & Watch Gallery 3 (GBC)
Mario Golf (GBC)
Pokémon Yellow (GBC)
Pokémon Pinball (GBC)
R-Type DX (GBC)
Super Mario Bros. Deluxe (GBC)
Wario Land II (GBC)