In a multi-part retrospective to commemorate the site's 10th Anniversary, we take a look back at every year of the site's existence.
2006 NWR Nintendo DS Game of the Year
by Nick DiMola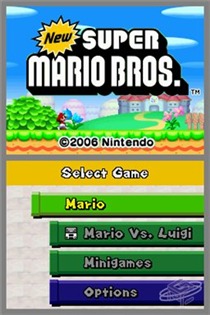 Developer: Nintendo EAD
Publisher: Nintendo
Release Date: May 19, 2006
Why Did it Win? New Super Mario Bros. marked the first appearance of Mario as the hero in a side-scrolling adventure since Super Mario Land 2: 6 Golden Coins in 1992. Built as a
spiritual successor to the very first Super Mario Bros., the title immediately connected with NWR staff, as it featured everything a classic Mario side-scroller should. It
wasn't perfect, but it epitomized classic, rock-solid gameplay, and that made it an easy choice for DS Game of the Year.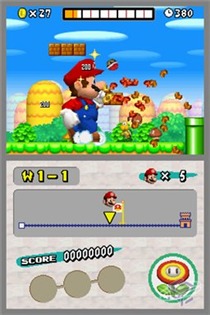 New Super Mario Bros. introduced some crazy new

power-ups
Is It Still Worthy? Regardless of the somewhat floaty jumping mechanics and the lower challenge level, it is still extremely fun to play and holds up to
repeated playthroughs. Since there has yet to be a New Super Mario Bros. 2, there has been nothing to outshine the rougher qualities of the original title. Elite Beat
Agents was just barely edged out by NSMB in a secondary vote, but it might have squeaked out a win today due to its chart-topping scores across the board.