In a multi-part retrospective to commemorate the site's 10th Anniversary, we take a look back at every year of the site's existence.
2004: The Year in Review
by Aaron Kaluszka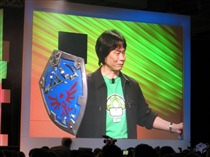 E3 2004: Miyamoto Swings His Sword
2004 marked a turning point for Nintendo with the introduction of their "third pillar," the Nintendo DS. Introducing dual screens, a touch screen, a microphone, and Wi-Fi functionality, the Nintendo DS was a bold and questionable direction for Nintendo to take. Speculation around the system and even its name consumed much of the year. Rather than using discs, Nintendo chose to stick with silicon, contracting Matrix Semiconductor to produce game cards featuring a new type of semiconductor technology for their system. Many thought the original DS design was not stylish enough, resulting in a complete redesign before launch.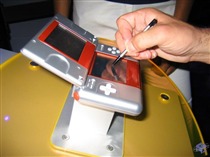 The Original DS' Bulky Design
The Nintendo DS was launched with a provocative "Touching is Good" ad campaign, enticing gamers to experience the new control scheme. The system was widely panned at release with the far higher-specced, but more traditional, PlayStation Portable recently announced by Sony. It turned out that the "third pillar" strategy was just a hedged bet in case the Nintendo DS failed. As we now know, it didn't fail and is instead likely to become the top-selling system of all time.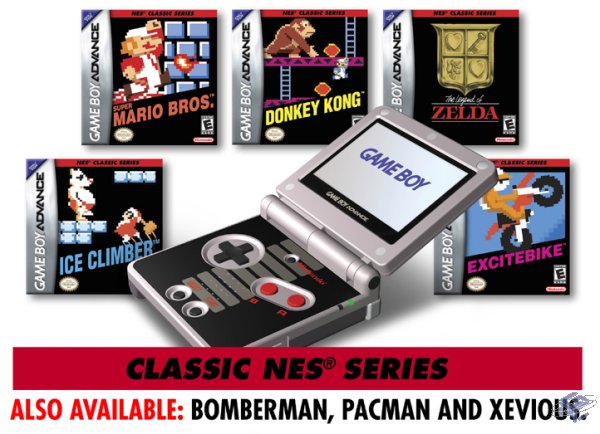 Classic NES Series
Though it was not apparent to those outside of Nintendo's homeland, Famicom systems were still in production until 2003. Shortly after they were discontinued, Nintendo brought back their legacy through the Famicom Mini/Classic NES Series for GBA, as well as a Famicom-themed GBA SP. These games, released in three batches, were also Nintendo's first attempt at capitalizing on emulation and resale of their vast back catalog. The series' success eventually led to Virtual Console on the Wii, and was surely one of the key components in refocusing Nintendo's efforts on simpler games. Nintendo wasn't the only one profiting from the past. Capcom released Mega Man Anniversary Collection, and even the old Intellivision was resurrected.
Nintendo continued its worldwide expansion with the introduction of the Game Boy Advance in China. iQue expansion into other countries never materialized, but downloadable games on the iQue gave a glimpse of the future of Nintendo game distribution.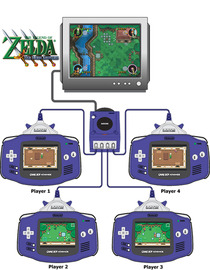 GameCube/GBA Connectivity with Four Swords Adventures
On the console side of things, connectivity was Nintendo's big experiment for the year. Though the complexity and cost were prohibitive to many, a number of games were released that made great use of the ability to connect the GBA and the GameCube. Four Swords Adventures brought a four-player Zelda game to the big screen, allowing travel between the individual GBA screens and the television. The development of Final Fantasy Crystal Chronicles brought Square Enix back to Nintendo, providing a gorgeous but controversial four-player action RPG to the GameCube/GBA stable.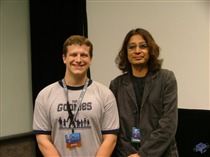 Jonny Meets Metroid Producer Yoshio Sakamoto
Along with Namco, Nintendo simultaneously experimented with the rhythm genre and alternative control schemes in Donkey Konga. The sleeper hit Donkey Kong Jungle Beat began to redefine how games could be played, tying drum controls to a platforming game. The DKJB team would eventually work on Super Mario Galaxy. Namco also debuted two big RPGs: Tales of Symphonia and Baten Kaitos, filling a void in the GameCube's library.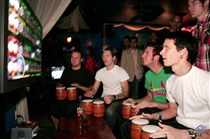 Story of the Year on Bongos with PGC Looking On
But 2004 was marred by a lot of uncertainty regarding the future of Nintendo as a hardware manufacturer. Nintendo cut their forecasts as GameCube and GBA sales fell well below expectations. Nintendo even bought back their own shares to raise their price. The year continued to be rough on Nintendo as the GameCube lost its previous Capcom Five exclusives, beginning with Killer 7 and ending with Resident Evil 4. The GameCube, and by extension Nintendo, were having major mindshare problems, being written off completely by some news outlets.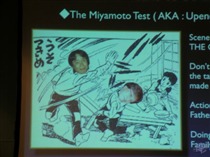 GDC 2004: Miyamoto Upends Aonuma's Tea Table
After a high-profile release in Metal Gear Solid: Twin Snakes, Silicon Knights broke off relations with Nintendo due to their change in vision. Meanwhile, pledges of Nintendo DS support flooded in, though it would be a while before third parties really got going on the handheld.
In Japan, Capcom formed Clover Studio, while former Capcom execs in the US created O~3 Entertainment. But all was not well in the industry as Acclaim, known best for licensed games such as NBA Jam, collapsed.
Hiroshi Yamauchi, though retired as Nintendo's President, was still a presence. Having had a hand in its conception, Yamauchi made a bold declaration about the Nintendo DS: "If the DS succeeds, we will rise to heaven, but if it fails we will sink to hell." He then took a different direction, pursuing an animation endeavor and selling his stake in the Seattle Mariners to Nintendo of America.
Thanks to a legal settlement, Nintendo games started displaying seizure warnings on game start-up, and GameCube lost its digital A/V port due to lack of demand.
The first official word regarding what would become the Wii dropped under the moniker GCNext.
With the game market shrinking in Japan, Satoru Iwata warned that their new system would not follow the same power advancement goals of the past, but would instead take a new direction. Nintendo determined that contemporary video game development was a "dead end," but given Nintendo's intentional secrecy, nobody realized just what Nintendo was planning. In fact, the next generation was already being called for Sony, two years ahead of the rivals' console launches.
2004 also saw music concerts based on video game music make their debut in the United States. Dear Friends: Music From Final Fantasy debuted at E3, and the Video Games Live concert series was also announced. Nintendo also brought their Fusion Tour back in an attempt to inject gaming into other scenes.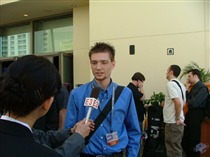 Mike Sklens is Interviewed by Japanese Media
Planet GameCube was on hand at E3 2004, which was inundated with DS demos designed to show off the handheld's radical new features. Most of these demos would eventually become early retail games, regardless of complexity. But the biggest tease came at the end of Nintendo's Press Conference. The Legend of Zelda: Wind Waker 2 was expected to continue the gorgeous, but lambasted cel-shaded design of its predecessor. However, when the lights dimmed a realistic, Lord of the Rings-esque version of Link and Epona exploded into view, unleashing unprecedented excitement across the gaming world.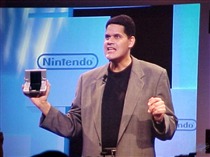 Reggie Takes Names
Yet, E3 2004 may be best known for the initiation of Reggie Fils-Aime, Nintendo's new Executive VP of Sales and Marketing and now President of Nintendo of America. His declaration, "My name is Reggie. I'm about kickin' ass, I'm about takin' names, and we're about makin' games." stood in stark contrast to Nintendo's perceived image, instantly igniting a fan base.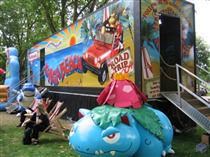 At the UK's Konga Beach Road Trip
The year was a big one for Planet GameCube and its community. Weekly trivia through IRC was popular, especially with many prizes offered. This culminated in "The Big Contest," with a prize sponsored by Nintendo, which took the winner and a friend to Hollywood for the launch of the Nintendo DS. Turn-out was unprecedented and the competition was fierce, and in the end, Aaron Kaluszka and Dan Wasielewski (both of whom would later come aboard as PGC/NWR staff) flew across the country to experience the rained-out Nintendo DS launch (a.k.a. The Extreme Hardware Durability Test).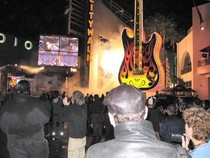 Nintendo DS Launch Event
While many defected from Nintendo during this time, we now know that behind the scenes, Nintendo was undertaking a risky re-imagining of their entire company. For better or worse, 2004 was the last big year of Nintendo's undiverted focus on core games.
Notable game releases:
GameCube
Tony Hawk's Underground 2
Game Boy Advance
Kim Possible 2: Drakken's Demise
The Legend of Zelda (NES Classics)
Super Mario Bros. (NES Classics)
Nintendo DS
Daigasso! Band Bros. (JPN)