In a multi-part retrospective to commemorate the site's 10th Anniversary, we take a look back at every year of the site's existence.
2000: The Year in Review
by Justin Nation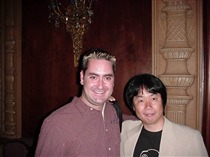 Billy Meets Miyamoto at E3 2000
As could be expected in the year during which its successor was originally assumed to be released, the Nintendo 64 was in the twilight of its lifecycle by 2000. Ironically, it had possibly the greatest year of software in its lifetime, with critically-acclaimed titles like The Legend of Zelda: Majora's Mask, Excitebike 64, Perfect Dark, and Banjo-Tooie released during the year.
With the GameCube launch imminent, not much of note happened that didn't have something to do with Nintendo's next console or one of the other next-generation systems. However, Nintendo's handheld scene was a notable exception. In 2000 everyone got an idea of what the new Gameboy Advance would bring to the table.
Fueling the fires of disenchantment due to no new system or even news about a new system, Nintendo made it clear that no hardware or media about their next generation systems would be at E3 2000. Nevertheless, Billy and a handful of intrepid staffers went to E3 and brought back their impressions of what Nintendo had on show. Check out some of Billy's and Ty's impressions of future games, an enjoyable read now that we know how they turned out. Billy and company also managed to pull down interviews with Silicon Knight's Denis Dyack and Saffire's Dave Rushton.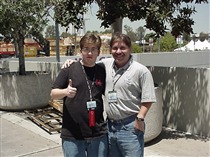 Ty with Dave Rushton at E3 2000
Once E3 closed, speculation surrounding the new console focused on the potential name of the system, the design of the controllers, and sillier fare like what the name of Nintendo's online network would be. To some extent this resulted in the staff's collective analysis of what was currently known about the system.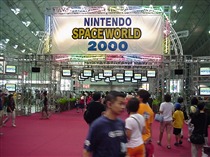 SpaceWorld 2000
Where it all went a little crazy was when Billy, hopped up on Mountain Dew and ignoring the balance on his credit card, boarded a plane to Japan to attend SpaceWorld 2000. After going over his pre-show thoughts, he jumped right in and brought us details of the system, its media, and plenty of game impressions.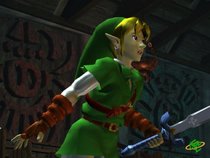 Surprise, Zelda Fans!
Spaceworld 2000 unleashed a swath of exciting, but ultimately misleading, video demos. The show is perhaps most well-remembered for its dark, realistic-looking footage of Link and Ganondorf engaged in battle. This would have deep ramifications for the series, which—much to the chagrin of some gamers—went on to adopt a very different visual style. Other notable demos fueled speculation for years, such as Meowth's Party and Mario 128 (the progenerator of Super Mario Galaxy and Pikmin).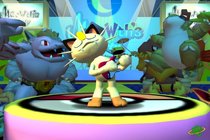 May we rock out sometime in the future, Meowth.
Billy's Spaceworld coverage concluded with his overall thoughts on the show.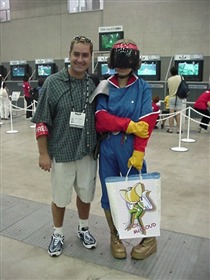 Billy was Falcon Punched shortly after this was taken
While 2000 was a year of waiting and speculation on the Nintendo front, for the site itself it was a definite year of transition both publicly and privately. On the one hand you had high-profile N64HQ staffers Scott McCall and Michael Hrusecky joining the staff, but on the other you had Billy entering his first retirement. During this time the dynamic version of the site was in the planning and development stages, all part of our plan to be the first fansite to compete with the big boys for real.
Notable Console Game Releases
Banjo-Tooie (N64)
Excitebike 64 (N64)
Hey You, Pikachu (N64)
Kirby 64: The Crystal Shards (N64)
The Legend of Zelda: Majora's Mask (N64)
Mario Tennis (N64)
Mario Party 2 (N64)
Pokémon Puzzle League (N64)
Pokémon Stadium (N64)
Sin and Punishment (N64)
Tony Hawk's Pro Skater (N64)
WWF No Mercy (N64)
Notable Handheld Game Releases
Donkey Kong Country (GBC)
Dragon Warrior I & II (GBC)
Dragon Warrior Monsters (GBC)
Monster Rancher Explorer (GBC)
Pokémon Pinball (GBC)
Pokémon Puzzle Challenge (GBC)
Rayman (GBC)
Street Fighter Alpha: Warrior's Dreams (GBC)
Wario Land 3 (GBC)