In a multi-part retrospective to commemorate the site's 10th Anniversary, we take a look back at every year of the site's existence.
2008 NWR WiiWare Game of the Year
by Carmine M. Red
Developer: 2D Boy
Publisher: 2D Boy
Release Date: October 12, 2008
Why Did it Win? World of Goo is one of the most polished titles yet to be released on WiiWare. With a striking 2D art style and a unique soundtrack, World of Goo has a style that few other games can match. But it's not just a quirky art project; it also has a whole lot of depth. Its physics-based gameplay was perfect for people to grasp immediately, and also perfect for the developers to implement some truly challenging situations and puzzles.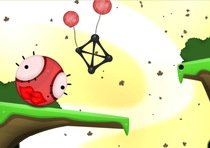 Goo blobs can be stacked, or manipulated with environmental objects like these balloons
Is It Still Worthy? Yes. Not just a great game, World of Goo is also a truly independent game. In order to make it, the developers had to quit their jobs and invested their life savings. At the Nintendo Spring Media Summit, they proudly admitted that in order to save money they worked out of coffee shops where they could get free internet. This was exactly what Nintendo's WiiWare service was made for: a game made by very few people with very little money and no major publisher, but an excess of passion, talent, and creativity. In many ways, World of Goo is a promise fulfilled.