by Donald Theriault - 8:17 pm PST
Discuss in talkback! Source: Nintendo
Spare yourself the Sanic movie and go dungeon diving instead.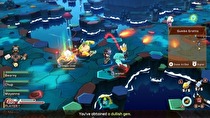 With a little help from Nintendo, another Level 5 franchise is about to make its debut outside Japan.
Snack World: The Dungeon Crawl - Gold has been confirmed for a North American/European/Australian release on the 14th of February. The dungeon crawling features local and online co-op for up to four players.
Read more...