by Donald Theriault - 10:28 am PDT
Total comments: 3
Welcome (back) to dye.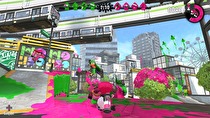 The Splatoon 2 Global Testfires will commence shortly.
The first testfire session will be this afternoon (US Eastern time) at 3 pm or noon Pacific for one hour, and Nintendo will be hosting a Treehouse Live stream for this session. Further sessions will be as follows:
11 pm Eastern / 8 pm Pacific...
Read more...