by Adam Abou-Nasr - 7:53 am PST
Discuss in talkback! Source: SquareEnix
That's March 3rd for those playing along at home.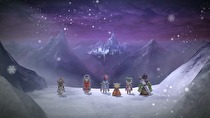 I Am Setsuna is coming to Switch at launch as a digital download, according to SquareEnix.
The retro JRPG is the first game from SquareEnix's new Tokyo RPG Factory, a studio focused on "mixing the spirit of the past with technologies of today." The Switch version will have exclusive new features including the ability to battle other players' parties.
Read more...