by Donald Theriault - 7:54 pm PDT
Total comments: 1 Source: Nintendo
The puffball's 25th birthday celebration continues.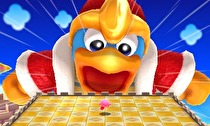 The second of three Kirby 3DS games this year will blast into the 3DS eShop next week.
Kirby's Blowout Blast, an expanded version of a minigame found in last year's Kirby Planet Robobot, will launch in North America on July 6 according to an announcement from Nintendo of America's Twitter account.
Read more...