by Donald Theriault - 7:14 am PDT
Discuss in talkback! Source: Nintendo
If you're not using those JoyCons, please forward them to Justin Berube.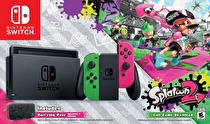 The freshest JoyCons imaginable are headed to North American Walmart stores.
Nintendo has announced a Switch Splatoon 2 bundle will release in North America on September 8 as a Walmart exclusive. The bundle will have a US MSRP of $379.99 and include a download code, carrying case and pink/green... Read more...