by Clay Johnson - 10:58 pm PDT
Total comments: 5 Source: Famitsu, via siliconera
The reason for splitting Zelda/Sheik and Samus/Zero Suit Samus into separate character slots? 3DS wasn't up to it.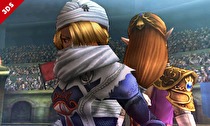 Super Smash Bros. director Masahiro Sakurai revealed in a recent interview with Famitsu that limitations in the capabilities of the 3DS hardware prevented the inclusion of characters who transform into alter egos with completely different appearances and move sets.
That's why Zelda and Sheik now... Read more...