by Donald Theriault - 10:31 am PDT
Discuss in talkback! Source: Kotaku
The process has apparently been refined.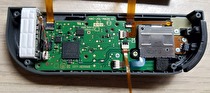 Nintendo has issued an amended comment regarding sync issues with some of the Joy-Con controllers.
In a statement issued to Kotaku, Nintendo has identified a variation at the factory level which has been corrected.
There is no design issue with the Joy-Con controllers, and no widespread proactive... Read more...