by Donald Theriault - 8:00 am EDT
Discuss in talkback! Source: Nintendo
Given that Donald can't enjoy cake today, at least Kirby will be able to later this week.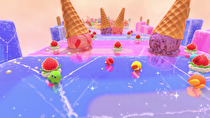 Things we missed last week: Taito's Gun & Frontier in the Archives.
Although Kirby's latest multiplayer romp - Kirby's Dream Buffet - is the game of the week, this vacation week for me (because screw working on your birthday) is tracking to be a busy one. Sega's Two Point Campus is finally... Read more...