by Mitchell Parton - 4:36 pm PDT
Total comments: 5
Surprise, surprise: It looks like a Nintendo Switch but... smaller. And with a D-pad.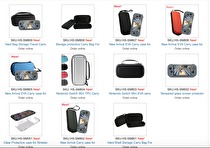 A Chinese company has posted a series of accessories on their webpage that appear to be for the unannounced Nintendo Switch Mini.
Twitter user @Cptn_Alex posted the following tweet Tuesday morning, which says that he received an email from a company claiming to sell Nintendo Switch Mini accessories, including carrying cases and screen protectors.
Read more...