by Aaron Brown - 6:38 pm PDT
Total comments: 1 Source: Press Release, Nintendo
Get your practice swings in.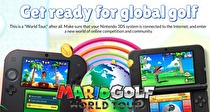 Nintendo is hosting regional and worldwide tournaments in Mario Golf: World tour, starting May 22.
The tournament is in collaboration with golf gear manufacturer Callaway, and participants will receive in-game, stat-enhancing Callaway Golf items, such as clubs and balls. Aside from the Callaway... Read more...