by Alex Osborn - 12:19 pm PST
Total comments: 4 Source: iJustine
Share your challenge-filled platforming creations online next year!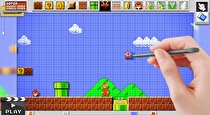 Mario Maker, the upcoming Wii U exclusive, creation-centric 2D platforming game, will allow you to share your custom made levels online.
Nintendo game designer Shigeru Miyamoto confirmed Mario Maker's online support in an interview with YouTube personality iJustine, saying, "You'll be able to... Read more...