by Donald Theriault - 5:00 am PST
Discuss in talkback! Source: Nintendo
Ride on, shooting stars.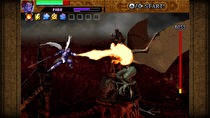 Though I'm still lost in the idolasphere, there's still plenty of games to deal with this week. Psikyo Shooting Stars Alpha, a compilation of four shooters from Japan, is the headliner from NIS America, while Oddworld: Stranger's Wrath and retro brawler 198X (actually an 8-4 joint) are the big ones in the download sphere.
Read more...