by Kimberly Keller - 1:12 pm PST
Discuss in talkback! Source: The Pokémon Company
Gotta catch 'em all... especially the party hat Pikachu!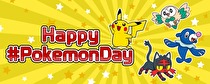 The Pokémon Company is commemorating their 21st anniversary this week with special promotions and events for Pokémon Day. While not as flashy as last year's milestone event, fans will have plenty to do to celebrate their favorite series.
Pokémon Go has released special party hat Pikachu into the wild. From now until March 6, any caught Pikachu will keep its festive hat forever, similar to December's Santa hat Pikachu.
Read more...