by Neal Ronaghan - 11:32 am PST
Total comments: 2 Source: Press Release
A demo will drop in May that can carry over to the final game.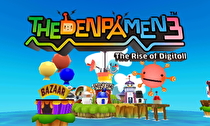 The Denpa Men 3: The Rise of Digitoll is coming to the 3DS eShop in North America and Europe in the summer, according to developer Genius Sonority. A demo will be available in May that will allow players to carry their save data over to the final game.
The third entry, which came out in Japan last year, lets players import their characters from the past two games. When capturing the Denpa Men, which you do by using Wi-Fi signals and the 3DS Camera, they can now fight back. Additionally, you can customize your collection even more than before and share them with the world. You can even borrow a Denpa Man from a friend.
Read more...