by Donald Theriault - 9:16 pm EDT
Discuss in talkback! Source: Nintendo
You've suffered through Port Town II, now you get to try the original.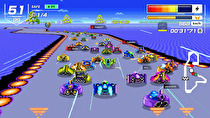 The track count in F-Zero 99 has doubled.
A forthcoming update (due tomorrow) to the September 14 Direct shadowdrop will add the five Queen League tracks - Mute City II, Port Town I, Red Canyon I, White Land I and II - to the game, including the option to race them in Grand Prix mode. White Land I was previously available in the "Expert Tracks" mode.
Read more...