by Donald Theriault - 7:33 am PDT
Total comments: 5
Un slime approachment! Ton command?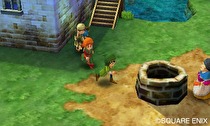 It turns out Fire Emblem Awakening wasn't the last 3DS RPG localization to spill out unintentionally.
In an appearance at Paris's Japan Expo, Dragon Quest series creator Yuji Hori confirmed that the games would be localized for France, at least:
Yuji Horii has just announced DQ7 and 8 will be released "in French"...?! Apparently a last minute announcement here at Japan Expo.
Read more...