by Alexander Morningstar - 5:52 pm PDT
Total comments: 3
Lucina is getting married. But not really.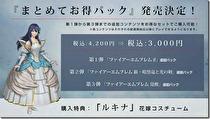 Koei Tecmo is giving Fire Emblem Warriors DLC packs, and a season pass.
The pass was revealed today at the Tokyo Game Show, and the game's Japanese website gave the details on pricing and intended release dates for the region. There are three packs coming, each costing ¥1400 (roughly US$12.50 or €10.50) with the season pass being ¥3000.
Read more...