by Donald Theriault - 6:06 am PDT
Total comments: 7 Source: Nintendo
To say a game is slightly reminiscent this week is to call E3 a little annoying.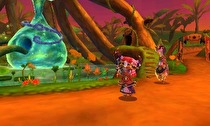 The big release this week on a worldwide basis is the long-awaited Ever Oasis, which drops Friday. Casey will have a review up shortly, but it's a very chill experience based on the demo and is certainly worth looking into. But if you don't trust me on that, Neal's preview should help in that regard.
Read more...