by Donald Theriault - 11:58 am PST
Total comments: 3 Source: Kinda Funny Games
An absolutely Direct-esque pace.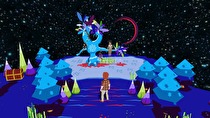 Following the spate of announcements Thursday night, Kinda Funny Games held a game showcase today that averaged more than an announcement a minute for more than an hour of video, with 27 Switch announcements.
The most immediate announcement is Mike Bithell's follow-up to February's Subsurface Circular,... Read more...