by Donald Theriault - 9:32 am PDT
Total comments: 2 Source: Atooi
The great crossover of Grant Kirkhope and Perry.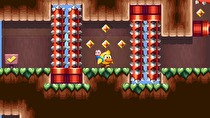 A latter-day 3DS title is coming to Switch, and the soundtrack has attracted an all-star staff that includes one of our own.
Chicken Wiggle Workshop, a Switch version of the Atooi-developed 3DS title, has announced that the Switch version will feature an orchestral remix of the soundtrack. In addition... Read more...