by Donald Theriault - 6:05 am PDT
Discuss in talkback! Source: Nintendo
Everybody's saying Labo this and Labo that, but nobody's saying Reloaded this or Manticore that.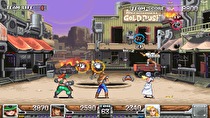 Today's release schedule is a bit of an oddity, as there's... not a whole lot. Whether this is due to Labo or not is up for debate, but there's already *23* Switch games confirmed for next week. Still, we'll take the breather while it's there. The non-cardboard big ones are Wild Guns Reloaded from... Read more...