by Donald Theriault - 6:09 am PST
Discuss in talkback! Source: Nintendo
Some things to play when the uncle crosses the line twice.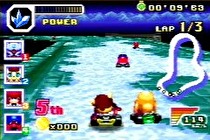 Of course, the big focus this week on the eShops is the various sales. Although half the eShop isn`t on sale right now, it just SEEMS like it. But there are a couple of new titles for your perusal before the football games kick off. On the Wii U, the sole newcomers are a Cuite Pets title and the VC... Read more...