by Becky Hollada - 5:19 pm PDT
Discuss in talkback! Source: Nintendo
Nintendo helps gamers around North America make Halloween plans.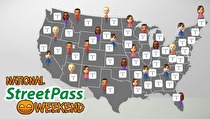 Halloween weekend, from October 31 until November 2, North America will see the return of National Streetpass Weekend.
Visit any one of 29,000 Nintendo zone hotspots Friday through Sunday and you will receive up to six Streetpass tags. Collect some new Miis for your Streetpass plaza, some new puzzle pieces, or even get some new enemy tokens to use in Super Smash Bros. 3DS.
Read more...