In a multi-part retrospective to commemorate the site's 10th Anniversary, we take a look back at every year of the site's existence.
2009 NWR Console Game of the Year (So Far)
by Jon Lindemann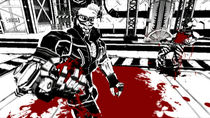 Developer: Platinum Games
Publisher: Sega
Release Date: March 10, 2009
Why Might It Win? MadWorld is the anti-Wii game. Next time somebody claims that there aren't any "hardcore" games on Wii, sit them down and have them spend a little time on DeathWatch. They're guaranteed to change their tune at least a little bit. Unabashedly violent, bloody, and brutal, MadWorld is a stylistic beat'em-up masterpiece that's also a heck of a lot of fun to play. Though it doesn't last very long, what's there is exactly what you'd expect from some of the same creators of the Viewtiful Joe series. Other games in 2009 may surpass it in scope, but certainly not in style. This homage to the visual style of the movie Sin City is destined to become a cult classic.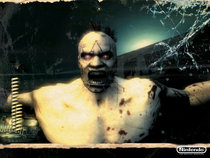 House of the Dead: Overkill is one of 2009's best so far
What Else Has a Chance? The Wii has already had some excellent titles released this year. In addition to MadWorld, House of the Dead: Overkill is also in the running. Instead of a boring rehashing of the HotD license, Overkill truly lives up to its name with plenty of cussing, blood, and a grindhouse-style presentation that sets it apart from the crowd. Heck, it's already been named the most profane game ever. If that doesn't scream "Game of the Year" for a Nintendo console, I don't know what does. Other high-quality titles that have flown under the radar so far are THQ's ingenius Deadly Creatures, and this year's entry in the stellar Pro Evolution Soccer series from Konami. But there's still the whole year to go, so don't expect the list to stay this small for long.