In a multi-part retrospective to commemorate the site's 10th Anniversary, we take a look back at every year of the site's existence.
2007: The Year in Review
by Neal Ronaghan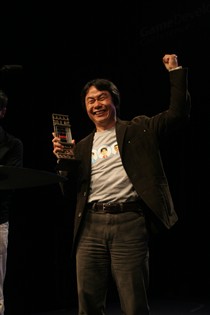 Miyamoto declares victory
When 2007 began, Nintendo was basking in the glory of the success of Wii and DS all over the world. To compliment this ridiculous windfall, Nintendo even won an Emmy for its pioneering of the D-pad. Clearly, the theme for the year was set: the Wii and DS were printing money.
In its first full year after the name change from Planet GameCube, Nintendo World Report was as surprised as any by the success of the Wii (its scarcity disproving an infamous 2006 RFN prediction by Jonathan Metts) and set the year off with GameCube Tribute Week.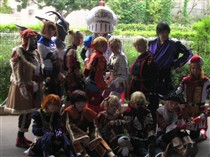 Square Enix Party 2007: Too Much Cosplay
Meanwhile, a lot of shocked game publishers and developers began to shift gears to focus on the overwhelming success of the Wii. EA looked to up their Wii support while Activision talked about bringing over the Guitar Hero franchise. Guitar Hero III: Legends of Rock eventually released for Wii, and became the most successful version of the game on the market.
This was also the first full year that Virtual Console Recommendations appeared on Nintendo World Report. This was during the time period when more than one game came out each week. Of course, there was controversy in February over Mike "Pale" Gamin's Kid Icarus recommendation in which he recommended the game for everyone. Staffer Carmine "Cai" M. Red declared "Pale recommending Kid Icarus for the all the unsuspecting masses" as his favorite staff moment of the year in our 2007 Awards.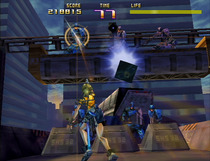 Sin & Punishment on VC surprised everyone
In a surprise Virtual Console development, North America finally got to play the treasured Nintendo 64 shooter Sin & Punishment, as it was released on VC alongside fellow import title Super Mario Bros.: The Lost Levels. Sin & Punishment was also a big winner in our year-end awards, taking home the award for the best Virtual Console game from a Nintendo system. Our VC pick from non-Nintendo systems was Sonic the Hedgehog 2.
It was around this time that Nintendo unveiled the Everybody Votes Channel, which came as a surprise to most. Everybody Votes wasn't the only new Wii channel that launched in 2007. The Internet Channel, which was released in beta in December 2006, also came out later in the year as did the Check Mii Out Channel, and the short-lived Metroid Prime 3: Corruption Preview Channel. In June, the first details on WiiWare, the Wii's downloadable service for original games, was revealed even though it was still a year away from release.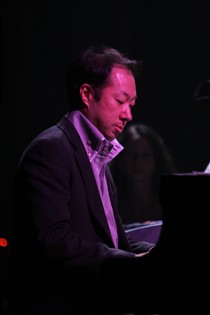 GDC 2007: Koji Kondo at Video Games Live
A few weeks before E3 2007, Jonathan Metts sat down with Silicon Knights President Denis Dyack in an interview that talked about Silicon Knights' departure from Nintendo, the new E3, Game Previews, and Too Human. Later in the year, he also had another notable discussion as he talked to Penny Arcade co-creator, Mike "Gabe" Krahulik about the charity Child's Play.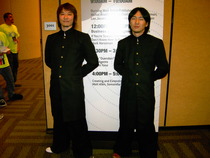 Keiichi Yano brought along Ouendan at GDC
The 2007 edition of E3, was one of the tamest in memory following the event's drastic restructuring that was announced a year prior. In years past, E3 was where PGC/NWR staffers met. However, E3 2007 featured only one of our staffers in attendance, then-site Director Steven "Windyman" Rodriguez. In any case, E3 still brought some surprise announcements including the reveal of Wii Fit, Mario Kart Wii, and the Wii Zapper.
The other major industry events of 2007 were also notable. First up was Game Developers Conference, where Shigeru Miyamoto gave a keynote speech. Later in the year, the famed Nintendo developer was named one of the 100 most influential people in 2006 by TIME magazine.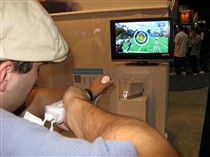 E for All: Steven Aims for the Gold
Later in the year, there was Leipzig Games Convention 2007, which Lasse Pallesen attended and played Super Mario Galaxy; Tokyo Game Show 2007, which James Charlton attended; Nintendo Fall Press Conference 2007, where the first WiiWare games were revealed and Monster Hunter 3 was announced as Wii exclusive; and E For All 2007, where Super Smash Bros. Brawl was playable by the public for the first time.
In May, The Official Smash Bros. website relaunched with weekday updates that lasted until after Super Smash Bros. Brawl came out. Unfortunately, Brawl did not see release in 2007 as it was pushed back to February (and then later, March) in October, less than two months before the original December 3 release date.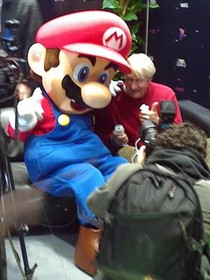 Mario Promotes his New Game in the UK
When 2007 came to a close, Super Mario Galaxy was still fresh in everyone's minds (that is if they weren't done playing it) and Super Smash Bros. Brawl and Mario Kart Wii lay just over the horizon. Nintendo still ruled the video game world as Wii and DS sold 6.3 million and 8.5 million units respectively during the year 2007, nearly half of all system sales. This dominance looked to continue into 2008, but Nintendo would have its share of controversy in the months ahead.
Notable Console Game Releases
Notable Handheld Game Releases
Notable Virtual Console Releases
Actraiser (SNES)
Bubble Bobble (NES)
Castlevania (NES)
Contra III: The Alien Wars (SNES)
Donkey Kong Country (SNES)
Donkey Kong Country 2: Diddy's Kong Quest (SNES)
Donkey Kong Country 3: Dixie Kong's Double Trouble (SNES)
Dynamite Headdy (SG)
F-Zero X (N64)
Kid Chameleon (SG)
Kid Icarus (NES)
Kirby's Adventure (NES)
The Legend of Zelda: A Link to the Past (SNES)
The Legend of Zelda: Ocarina of Time (N64)
Mario Kart 64 (N64)
Metroid (NES)
Ninja Gaiden (NES)
Ninja Gaiden II: The Dark Sword of Chaos (NES)
Paper Mario (N64)
Punch-Out!! (NES)
Shining Force (SG)
Sin & Punishment (N64)
Sonic the Hedgehog 2 (SG)
Sonic the Hedgehog 3 (SG)
Star Fox 64 (N64)
Super Ghouls 'n Ghosts (SNES)
Super Mario Bros. 2 (NES)
Super Mario Bros. 3 (NES)
Super Mario Bros.: The Lost Levels (NES)
Super Mario World (SNES)
Super Metroid (SNES)
Wave Race 64 (N64)
Yoshi's Story (N64)
Zelda II: The Adventure of Link (NES)