In a multi-part retrospective to commemorate the site's 10th Anniversary, we take a look back at every year of the site's existence.
2006 NWR Wii Game of the Year
by Nick DiMola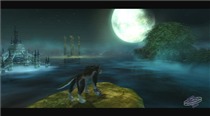 Developer: Nintendo EAD
Publisher: Nintendo
Release Date: November 19, 2006
Why Did it Win? With the limited scope of the Wii library at the time, Twilight Princess was an obvious choice for Game of the Year. However, even if the game were to release the subsequent year, what we call "the ultimate Zelda" would undoubtedly have a place at the top of any list for any year. Twilight Princess finally delivered the epic quest and realistic (read: not cel-shaded) look so many fans were pining for when The Wind Waker was released. With a main quest featuring over forty hours of play time, countless side quests, and new pointer controls, Twilight Princess on Wii was an unforgettable title.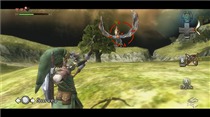 The Wii Remote's pointer was used effectively for bow-and-arrow aiming
Is It Still Worthy? Yes, without question.Though many gamers grumble that the Zelda formula has grown tired, Twilight Princess delivered an epic play experience that expanded upon every aspect introduced by its big brother, Ocarina of Time.
In retrospect, an argument could be made for Wii Sports. The Wii's breakout success can likely be traced back to its bundling with Wii Sports; it has outpaced Super Mario Bros. as the best-selling game of all time, and has converted countless non-gamers into Wii-owning video game newbies. While Twilight Princess may have provided the best traditional game experience, Wii Sports provided an experience so definitive that it sparked the Wii's immense success. But for our money, Twilight Princess had the pedigree, quality, length, and depth to rise above the fray.