In a multi-part retrospective to commemorate the site's 10th Anniversary, we take a look back at every year of the site's existence.
2001: The Year in Review
by Michael Cole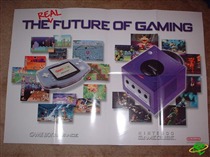 Two Systems. One Year.
With three system launches (GameCube, GBA, and Xbox) and our first slew of game reviews, 2001 was a huge year for Nintendo gamers, the website, and the video game industry as a whole.
With the imminent Japanese release of the Game Boy Advance in March, the fervor surrounding the handheld was huge. Does the GBA really support single-cartridge multiplayer? How much will it cost? The announcements poured in: Sonic Advance, the first Sonic game for a Nintendo system; Castlevania: Circle of the Moon, the first worthy successor to Symphony of the Night; a brand new Metroid game; Nintendo's bizarre Advance your Life advertising campaign. The GameCube announcements kept rolling in too: Sonic Team and Amusement Vision are working on games; Super Smash Bros. 2 as a possible launch title; and Retro Studios as the continual game developer soap opera. We even wrote a FAQ for each system! We couldn't get enough of it!

Of course, exciting things were going on behind the scenes at Planet N2000, too. For staffers, January and February were defined by a mad scramble to migrate our articles and game profile information to our new site. And after an enigmatic birthday message, Planet N2000 was reborn as Planet GameCube on March 7th, 2001.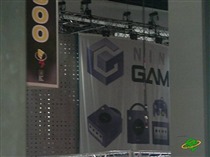 PGC Ninjas Confirm the GameCube Logo
But that was just the beginning! E3 2001 burst onto the scene with more Nintendo action than you could shake a stick at. After floating around unconfirmed, Planet GameCube confirmed the official logo from the E3 showroom floor. The barrage of information continued with the Nintendo Press Conference, and the PGC crew scrambled to cover the wealth of games on the showroom floor. We even snuck in a quick interview with Yuji Naka.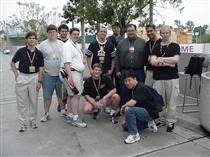 PGC with Denis Dyack from Silicon Knights
As exciting as E3 2001 was, there was more action to come. June marked our first official review—Billy Berghammer's evenhanded analysis of Super Mario Advance—and we've been providing quality reviews ever since.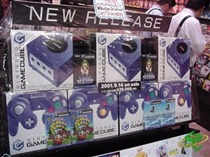 Big in Japan
Billy then abandoned poor Louie and ventured to Japan to cover Spaceworld 2001. And of course, who could forget when he stuck around to become second in line for a Japanese GameCube amongst the jarring backdrop of September 11th? It was even documented in The Japan Experience 2001 CDs!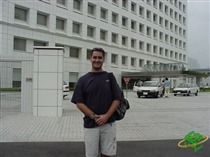 Billy Stalks Nintendo in Japan
Or how about our coverage of new GameCube demos at The Nintendo Show in the UK and Cube Club in North America events leading up to the western launches? Surely you remember all the hulabaloo surrounding the North American launch, with third party games and even accessories going on sale early. (And if you don't, you can revisit your own anecdotes!)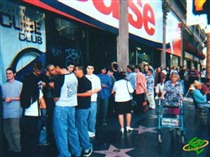 Outside the L.A. Cube Club
Yes, 2001 was a year for the ages. But with more promising GameCube titles on the horizon, Nintendo, and PGC, was just getting warmed up...
Notable Console Game Releases
Notable Handheld Game Releases