Sakurai talks eight-player Smash, the Wii U version's additional Rules options, and more.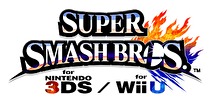 Welcome to This Week in Super Smash Bros., our weekly recap of the various updates, images, and information regarding the upcoming Super Smash Bros. games for Wii U and 3DS. Here's a look at what the game's creator, Masahiro Sakurai, shared with us this week, along with his comments. And if this doesn't sate your thirst for all things Smash, you can get a full rundown of the many reveals from this week's Nintendo Direct presentation on the Wii U version of the game here.
Monday, 10/20/14: Rules (Wii U version)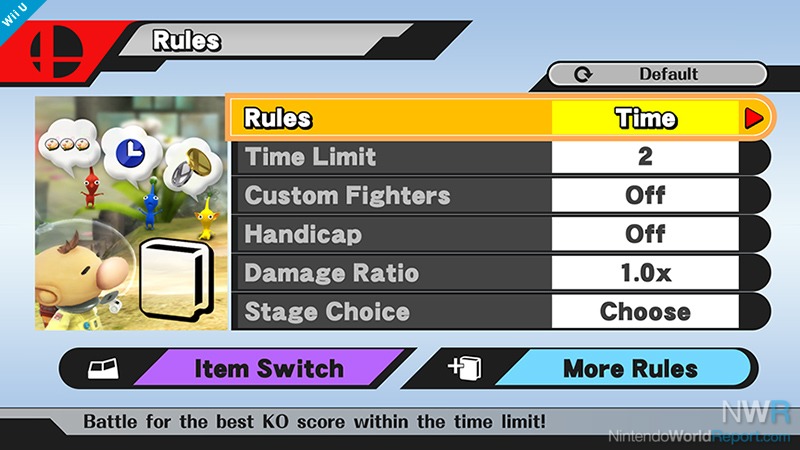 Here's the settings menu for Rules. Comical pictures appear on the left when you go through the options, so I'll briefly introduce them.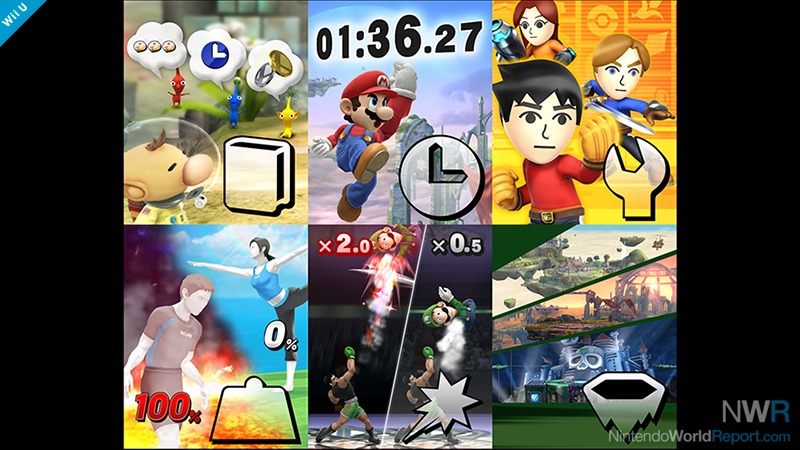 Going clockwise from the top-left corner, here are the pictures that appear for Rules, Time Limit, Custom Fighters, Stage Choice, Damage Ratio, and Handicap.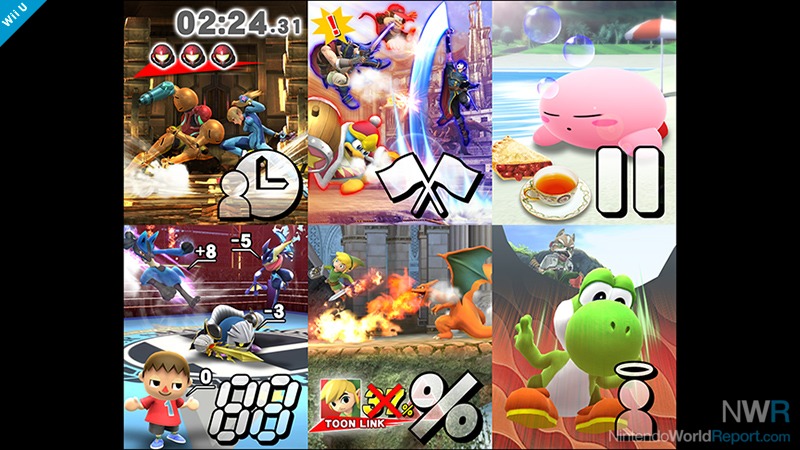 In the Wii U version, you can customize additional rules from the beginning of the game. Here are the pictures displayed for Stock Time Limit, Team Attack, Pause Function, SD Penalty, Damage Display, and Score Display. You can almost hear Fox's cry in the picture displayed for SD Penalty settings.
Tuesday, 10/21/14: Xenoblade Trophies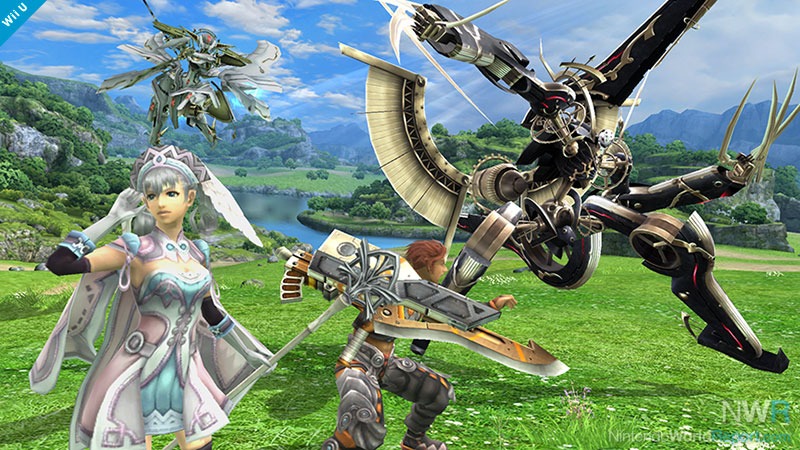 Trophies from the Xenoblade series can be found mostly in the Wii U version. Here's Melia looking the other way.
Wednesday, 10/22/14: Secret Fighter Reveal Teaser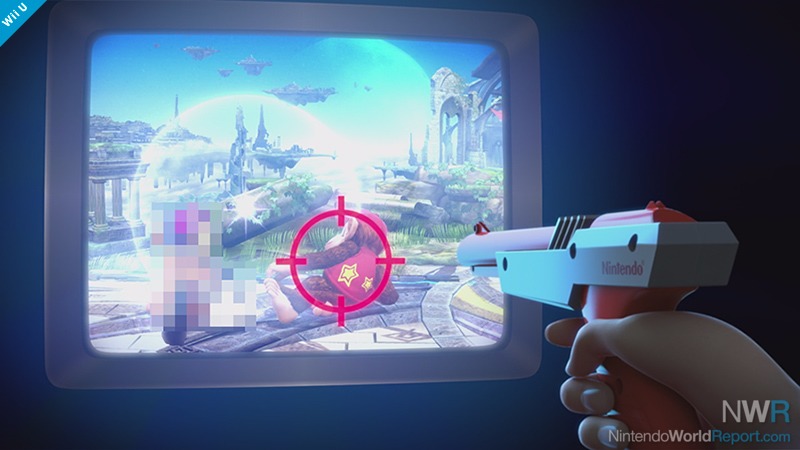 Here's what's happening behind the scenes in one of the secret fighter's shooting moves. The object being held is called an NES Zapper. This is an accessory which was released for the NES outside of Japan. Now, this image is edited, but it's a scene from the secret fighter's reveal video.
Thursday, 10/23/14: Boxing Ring Stage (Wii U Version)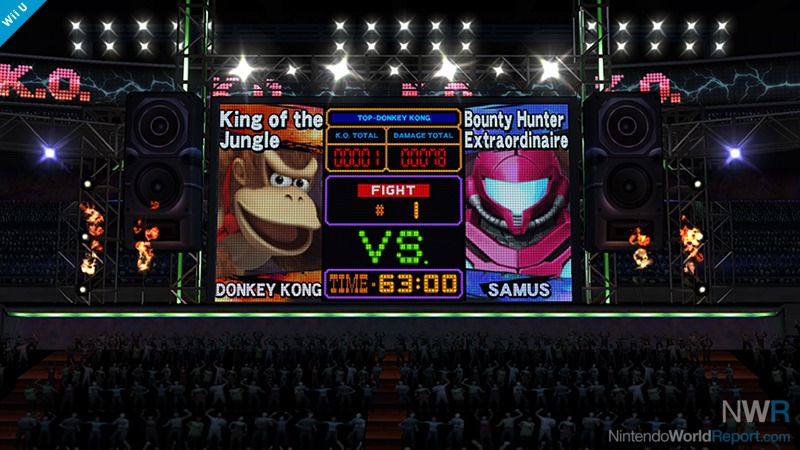 The giant screen in the Boxing Ring stage for Wii U reenacts the multiscreen effect seen in the arcade version of Punch-Out!! Looks like their aliases are displayed on the screen too.
Smash Bros. for Wii U: 50-Fact Extravaganza
"Super Smash Bros. for Wii U: 50-Fact Extravaganza" ("Super Smash Bros. for Wii U: 50 Must-See Things") is out now!!
Friday, 10/24/14: Eight-Player Multiplayer & Big Battlefield (Wii U version)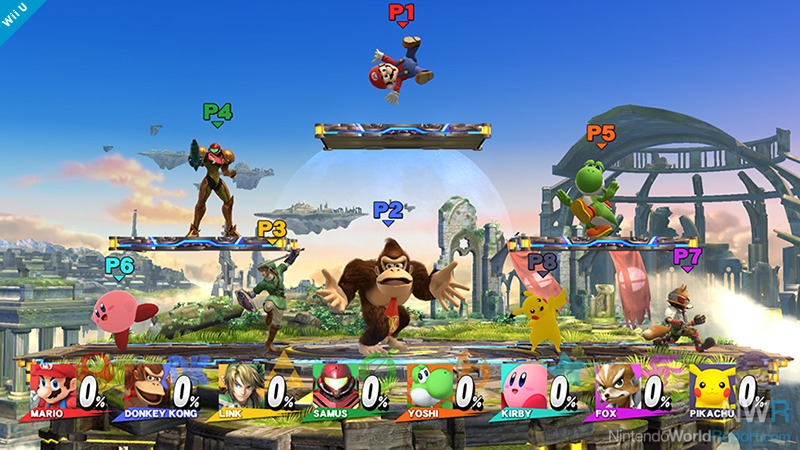 At long last, the Wii U version supports eight-player multiplayer!! It gets pretty hectic watching eight people duke it out at once.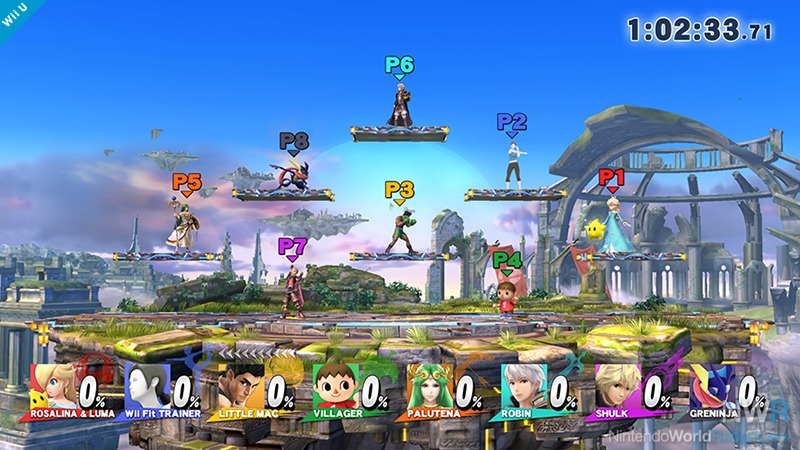 And here's a stage prepared for a large number of fighters, Big Battlefield!! Fighters can spread out, so it should be easier battling on a stage like this.