by Donald Theriault - 6:17 am PST
Discuss in talkback! Source: Nintendo
So that's six million people having trouble getting Alcremie.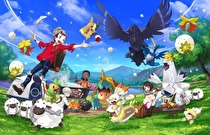 Sword and Shield's opening weekend has set multiple records.
Nintendo of America have confirmed in a press statement that more than 6 million copies of Sword and Shield were sold on the opening weekend (November 15-17), with "just over" 2 million of those sales coming in the first two days of... Read more...