by Donald Theriault - 5:00 am PDT
Discuss in talkback! Source: Nintendo
This week features a hard-hitting game of strategy and management. It also has a Fire Emblem game.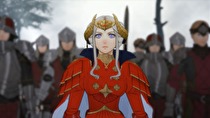 Boy, this week is right in your wheelhouse, isn't it?
About the only way they could clinch it was a Pokémon game. We've got the long anticipated Fire Emblem Three Houses, the long-awaited-by-me Super Mega Baseball 2, and as someone who listens to Before My Body Is Dry (aka the "Don't Lose Your... Read more...