by Donald Theriault - 6:22 pm PDT
Discuss in talkback! Source: Nintendo
It's a collision of free to start.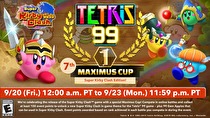 Kirby is the next franchise to join the fun of Tetris 99.
As part of a Super Kirby Clash launch party, Tetris 99 will hold their seventh Maximus Cup from 3 a.m. ET on September 20 until 2:59 a.m. ET on the 24th. In addition to the traditional theme, which will be Super Kirby Clash themed, players will also receive 99 Gem Apples - the SKC ingame currency.
Read more...