by Donald Theriault - 6:38 pm PDT
Total comments: 11 Source: Capcom
Not the first time we've seen this type of game on a Nintendo system.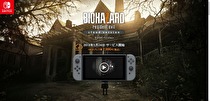 Resident Evil 7 is coming to the Switch, but not in the way some expected.
Capcom's main office in Japan have released a video showing "Biohazard Resident Evil: Cloud" coming to Switch on Thursday (May 24). The horror title originally released for PlayStation 4, Xbox One, and PC in January of 2017,... Read more...