by Donald Theriault - 5:00 am PDT
Discuss in talkback! Source: Nintendo
Really not feeling the reluctance to reveal pricing this week.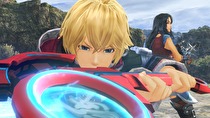 Yo yo yo, pop a microSD card and clear your calendars it's REYN TIME* this week with the release of Xenoblade Chronicles: Definitive Edition. Adding a 10-15 hour prologue seems kind of counter-productive, but what do I know. I do know, however, that 2K is dropping six separate releases on the eShop this week, and we only know the price for one of them as of Monday. Joy.
Read more...