by Donald Theriault - 6:36 am PST
Total comments: 1 Source: Nintendo
Will it be your next desert island game?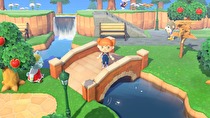 The Animal Crossing Direct has wrapped up and revealed a bunch of new information about New Horizons ahead of its launch a month from today.
The island can be set in either the Northern or Southern hemisphere, which will accurately reflect the calendar with seasons (launch day will be spring in the...
Read more...