by Donald Theriault - 11:06 am EDT
Discuss in talkback! Source: XD Network
It's a cube of time, thankfully without the insanity.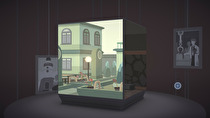 Players will be able to get a bunch of new perspectives with the upcoming puzzle Moncage.
XD Networks and developer Optillusion have announced Moncage for a 2021 Switch release. The game features a cube that contains multiple worlds on each of its surfaces, with the ability to rotate the cube and use optical illusion to solve mysteries within.
Read more...