by Donald Theriault - 7:00 am PDT
Source: Team17
A nice, big sandbox to play in.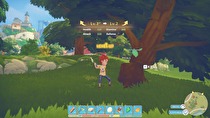 Team17 is taking us to the farm in mid-April.
My Time at Portia, the sandbox simulation RPG announced last year, will release on April 16 on the eShop. A physical version of the game will also be available.
The Chinese developer Pathea developed the game, which had a successful crowdfunding campaign and is currently available on PC.
Read more...