by Donald Theriault - 9:43 am PDT
Total comments: 9 Source: Nintendo
Yes, everyone. Even the third party characters. And him. And her.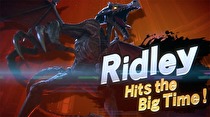 Super Smash Bros. for Switch will be the biggest crossover in the history of video games.
Every character who has ever been playable in a Smash Bros game - even DLC, or characters like Ice Climbers and Pichu, will be playable. Although the initial roster will be based on the original game, the unlocking of characters will be streamlined. In addition to the new Inklings, the other new fighter in the game will be the long-awaited Ridley.
Read more...