by Donald Theriault - 4:48 pm PST
Total comments: 6 Source: Yacht Club Games
Darn that additional polish.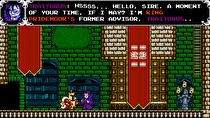 Yacht Club Games isn't quite free from the 8-bit adventures of Shovel Knight yet.
The company's latest blog update has confirmed that the King Knight pack, Shovel Knight Showdown, and the 3-pack of villain Amiibo (Specter, Plague, and King Knight) has been delayed. Yacht Club cited a desire to ensure the highest quality and ensure all the physical editions required no further patching before the launch.
Read more...