by Donald Theriault - 7:20 pm PDT
Total comments: 14 Source: SquareEnix
No, that title isn't confusing at all.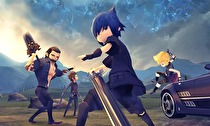 SquareEnix has brought mainline Final Fantasy back to Nintendo consoles... in a fashion.
The company released a trailer for Final Fantasy XV Pocket Edition HD on their Youtube channel earlier tonight, confirming the game for a Switch release "soon". The game has already launched on Xbox One and PlayStation 4.
Read more...