by Alex Culafi - 2:59 pm EDT
Total comments: 1
Alex breaks down some of the more interesting games he saw at this year's PAX East.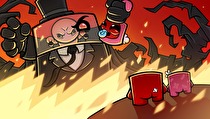 This year marked my eighth PAX East with Nintendo World Report, and my third hosting a panel (this year's was on Animal Crossing!), so it's safe to say that this time around, I know what I'm getting into. PAX East is a place where you play cool indie games, stand in long lines, and people-watch all the people in cool cosplay.
Read more...