by Jordan Rudek - 11:56 am PDT
Total comments: 5
16-bit graphics, a memorable cast, and an incredible story make this RPG one for the ages.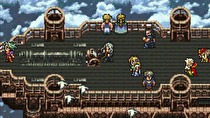 Any re-release of Final Fantasy VI marks a worthwhile occasion to play through this seminal role-playing game. From its 14 playable characters to its fiendishly-perfect antagonist, this SquareSoft masterpiece demonstrated how important it is to fill a game world with individuals you wanted to know... Read more...