by Neal Ronaghan - 1:37 pm EST
Discuss in talkback!
Turns out removing developers and features from previous games isn't great.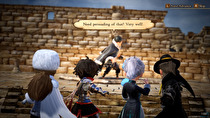 I remember realizing when playing a demo for Final Fantasy XV that Square Enix wasn't going to make a Final Fantasy in the style I wanted ever again. I longed for the sublime sprite work of Final Fantasy on Super Nintendo. I wished for the flurry of intriguing and mostly excellent turn-based adventures... Read more...