by Neal Ronaghan - 8:46 pm EST
Discuss in talkback!
Let's celebrate the Mario Game & Watch with the sad, cold reality of the world right now. Happy 35th!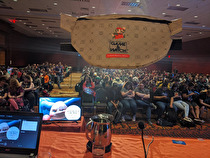 While pre-orders seemed to have been confusing, the Super Mario Bros. Game & Watch has arrived. Best of luck trying to find out when your retailer of choice tosses them up for pre-order online. Please be safe in your travels to do in-store or curbside pick-up. Wear a mask. Do your thing.
Nintendo... Read more...