Nintendo trivia has been an important part of our history. In 1999 we began hosting weekly contests in our chat room where we'd ask questions and you'd answer them. Over the years Radio Trivia became our main event, replacing questions with great video game music.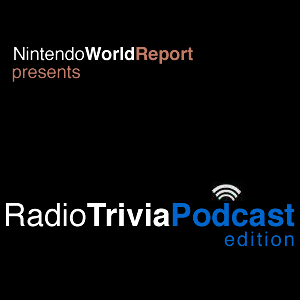 In February 2007, site director Steven Rodriguez and Radio Trivia mainstay Michael "TYP" Cole had a revelation. We knew we had a lot of fans of our regular podcast, Radio Free Nintendo. We knew readers liked listening to us talk about Nintendo. We also knew we had a lot of devoted fans of Radio Trivia, but recognized that many have become too busy to dedicate Friday nights to our little game. We put two and two together came up with a pilot episode for a new podcast, Radio Trivia: Podcast Edition.
Here's how it works. Listen to an episode using one of the following means
We'll play three songs from a game that was released on a Nintendo platform, which could be a game on any system from arcade units to the Wii. After the first two songs, we'll ask you a question about that game, which will serve as either a hint for those that don't know what the game is, or a challenge for those that already do. After we play the third song, we'll reveal the game, the answer to the question, and chat a bit about the game before moving on. There are five games in all.
Unlike our live Radio Trivia contests, this is not a competition against other people. We devised this as a test against yourself. How much video game music do you know? This is how you can find out. Even if you don't know one tune from another, you can still enjoy some great game music, and learn a little about the best-sounding games ever made. You can even suggest your own game (and question), if you want! Be sure to check which games have already been used.
Please enjoy the show!