Did you miss the telethon this year? Do you want to listen to the Radio Trivia segment again, remastered with higher fidelity audio? Is this teaser shamelessly cribbing from last year? The answers to these questions and more, after the show.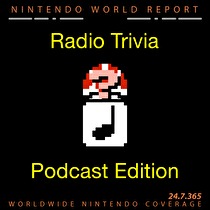 Subscribe via iTunes (Please rate and review, too!)
If you're reading these show notes shortly after their publication date, then there may still be time to contribute to our fundraiser! You can find the donation link, as well as recordings of all of the telethon segments just as they were broadcast live to the world, on the official 7th Annual NWR Live Podcast Telethon for Child's Play page! You can also visit the official Child's Play website for more information on this fantastic charity!
Did you like this episode's game selections? Let your fellow listeners know in TalkBack! Think you've got a better choice that hasn't been used yet? Then send it my way and your request might be on the next episode of Radio Trivia: Podcast Edition! Heck, throw in a question and specific songs if you want. Just remember, it has to be a game found on a Nintendo system in North America (unless we say otherwise)!
Games featured in this episode:
Xenoblade Chronicles X (Wii U)
3D Picross: Round 2 (3DS)
Phoenix Wright Ace Attorney: Spirit of Justice (3DS)
Axiom Verge (Wii U)
Pocky & Rocky 2 (SNES)
(Highlight the text above with your cursor to view it.)
This episode was edited by Michael "TYP" Cole. All game music is copyright their respective owners.