We did it live for the kids. Now you can revisit the Radio Trivia Live segment any time, remastered with higher fidelity audio and background music added.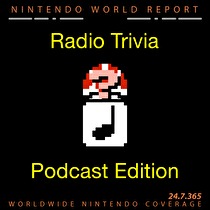 Subscribe via iTunes (Please rate and review, too!)
This podcast episode was recorded live in front of an Internet audience as part of the 5th Annual NWR Podcast Telethon for Child's Play. Due to differences in how this episode was recorded for the live broadcast, there is some inevitable cross-talk and the occasional audio glitch. Other minor modifications to the format were also made to accommodate the live setting: games that have been previously used on the podcast are in play, and there are no trivia/hint questions. We hope you find this remastered version to be enjoyable nonetheless.
If you missed the podcast telethon, but still want to donate, there is still a little time left to donate! You can also find recordings of the other telethon segments on the telethon page. And if you couldn't make to the live event this time, we'd love for you to join us next year.
Did you like this episode's game selections? Let your fellow listeners know in TalkBack! Think you've got a better choice? Then send it my way and your request might be on the next episode of Radio Trivia: Podcast Edition! Heck, throw in a question and specific songs if you want. Just remember, it has to be a game found on a Nintendo system in North America (unless we say otherwise)!
Games featured in this episode:
Mario Golf: World Tour (3DS)
The Mysterious Murasame Castle (3DS/FDS)
Donkey Kong Country 2: Diddy's Kong Quest
Demon's Crest (SNES)
Bayonetta 2 (WiiU)
(Highlight the text above with your cursor to view it.)
This episode was edited by Michael "TYP" Cole. All game music is copyright their respective owners.