by Donald Theriault - 8:00 am EDT
Discuss in talkback!
My original plan was to do this entirely in wrestling jokes, but the writing time was coming up to a Ric Flair 1980's title defense.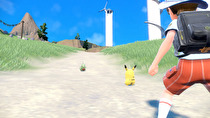 We're into the traditional dry period between the announcement of a new Pokemon game and the reveal of actual new information about it, but it's left me with a lot of time to stew over things since our rapid analysis came out. As someone whose Pokemon playstyle is largely focused on Pokedex completion,... Read more...