by Donald Theriault - 4:23 pm PST
Total comments: 14
Or how the only launch game Donald buys is from Konami.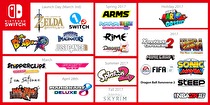 Nintendo of America has finally confirmed the launch lineup for the Switch for March 3, and compared to their last console launch, the quantities are slim. 1-2-Switch, Breath of the Wild, Super Bomberman R, Skylanders Imaginators and Just Dance 2017 is the entire Day One lineup. The Wii U, for comparison,... Read more...