by Jordan Rudek - 10:24 am EDT
Discuss in talkback!
With the Kingdom Hearts games coming to Switch exclusively via the cloud, one NWR editor has had enough.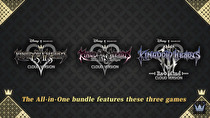 With Nintendo on the cusp of releasing their new OLED model, it would seem that a more powerful revision is at least 12 months away, if not significantly longer than that. We've already seen a number of high profile titles make their way to, or be announced for, the Nintendo platform as cloud versions:... Read more...