by Karlie Yeung - 2:20 pm EDT
Total comments: 5
Worlds collide as gaming comes to the European Space Agency as No Man's Sky begins its pre-release tour.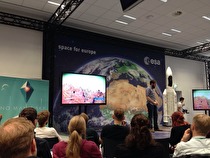 Today there was a press event for No Man's Sky held at the European Space Operations Centre (ESOC) in Germany, part of the European Space Agency. It just so happens to be my workplace of the past seven years. After I had finished processing my disbelief and confusion that ESOC security would allow... Read more...