by Zachary Miller - 10:32 pm EDT
Discuss in talkback!
These are the tough games to review.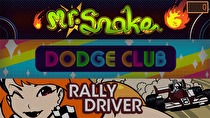 Developed by James Montagna and Andrew Lim, Dot Arcade is an experiment in video games as an art form. This is possibly the first truly minimalist video game I've ever played. As a game, I don't know how well it works, but as an expression of gaming concepts boiled down to their most simplistic... Read more...