by Neal Ronaghan - 12:54 pm PDT
Total comments: 3
Though that doesn't mean Nintendo's E3 2019 will be devoid of delays.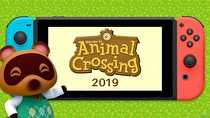 This morning, Nintendo shined a light on their playable E3 2019 plans. If you're heading to Los Angeles for E3, you will be able to check out show floor demos of Pokémon Sword and Shield, Luigi's Mansion 3, The Legend of Zelda: Link's Awakening, Marvel Ultimate Alliance 3, and more. Missing from that list of playable titles is a hotly anticipated 2019 game: Animal Crossing.
Read more...