That pink puff sure is a superstar!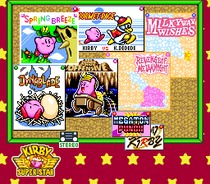 Kirby Super Star was the first main Kirby game to appear on the Super Nintendo. Originally released in 1995 in Japan, and then late 1996/early 1997 for the western markets. Kirby Super Star is one of the most popular entries in the series to date, and the games that have followed it, have been usually compared to it.
The structure of the game is different to other Kirby games. Instead of following a linear set of levels, the game contains various sub-games that increase in difficulty, along with some of them changing the gameplay mechanics slightly. The first game is actually a remake of the first Kirby game, Kirby's Dream Land, which recently came out on the 3DS Virtual Console. Some of the later sub-games feature longer levels, with one having Kirby having to collect treasure throughout. Another has him making his way through Meta Knight's ship, the Halberd, to stop Meta Knight from taking over Dream Land.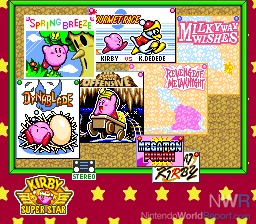 Game Select Screen
One of the great features of Kirby Super Star is that Kirby can create CPU helper characters by discarding an ability he has acquired. These helper characters can also be controlled by a second player by simply plugging in another controller, which is great. The game really comes into its own when you have a friend to play along with. Especially in the boss rush mode called the arena, where you must defeat all 26 bosses from the game.
The game also features a few mini-games, one is a samurai showdown game where you must hit a button as soon as the game gives the signal. Another is a Megaton Punch game, where you must time your button presses to try and make the biggest crack in the planet. The last one features three levels that you must race through, either in a time trial setting, or against a CPU opponent.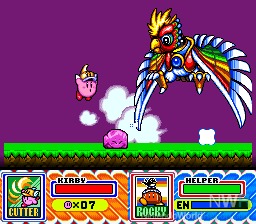 Kirby Super Star is definitely a very fun game; it is one of the best Kirby games ever released, and the inclusion of co-op available throughout is a fantastic addition. The game is just fun to play through, and some of the changes to the gameplay and structure of the later games in the collection make sure it doesn't wear thin.