A racing game that would not have been possible on the NES.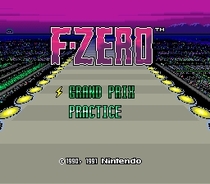 Nintendo has always been great at using its first-party launch software to showcase the power and innovations found in its new systems. For the Super Nintendo, the futuristic racer F-Zero helped people become intimately familiar with shoulder buttons and the power of Mode 7 graphics. Aside from the fancy new technology, F-Zero impressed and continues to be remembered today because of memorable music, exquisite level design, and fantastic core gameplay.
Long before the Wipeout series came along, F-Zero showed gamers what a racer set in the future could be like. F-Zero is strictly a single-player experience with 15 courses and four selectable racer including the now famous Captain Falcon. Interestingly, the fact that each character's vehicle handled different was a relatively unique feature back when the game was originally released.
While racing around the tracks at blazing fast speeds, the (at the time) brand new shoulder buttons gave gamers the ability to quickly make sharp turns in a manner that no one had ever experienced before. Choosing either the R or L button allows your driver to lean either to the right or left of an upcoming turn and ultimately gives you great control while zipping around the track.
Along with fighting for first place, it is important to avoid being blown to smithereens before completing five laps around a course. Players lose energy when slamming into walls, obstacles, and other opponents. Thankfully, a car's energy bar can be refilled by driving through recharge strips. After completing each lap, players earn a temporary speed boost that they can be activated at their leisure to help fight their way to front of the pack. Plenty of fun and excitement is derived from carefully maintaining your car's energy level so that it doesn't explode.
The game's racing action would simply not be possible without using Super Nintendo's Mode 7 graphic mode to simulate a 3D effect. While arcade games like Sega's Out Run and Power Drift had used heavy sprite manipulation to create the illusion of a 3D racetrack, no home console racing game had ever done such an impressive job at imitating a 3D landscape. The sense of speed and the smooth animation is still a visual treat today and helps make the game an exhilarating experience. Like the graphics, F-Zero's soundtrack is top notch providing players with a soothing jazz score filled with memorable tunes that you will be humming until you die.
F-Zero has left a long legacy since it first debuted in the early '90s. It influenced countless other racing titles such as the arcade mega-hit Daytona USA and started what some still view as Nintendo's preeminent racing franchise. It easily qualifies as one of the best Super Nintendo games thanks to its timeless gameplay and vast contribution to the racing genre.