Another day, another influential RPG making the SNES 20.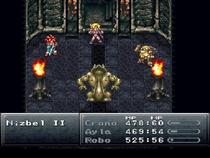 Not unlike EarthBound, Chrono Trigger is a late SNES game that is often heralded as one of the finest RPGs of all time. In frantic jubilation, fans point wildly towards it, shouting about innovation, the score, the characters, the endings, and a hundred other facets of the game, and all for good reason. Chrono Trigger is one of those games where everything comes together with skillful precision and execution. There are no superfluous grinding sequences, no overly long and meandering moments of exposition. Chrono Trigger drives forward with a keen focus seemingly lost after the PlayStation created a generation of cut scene-fetishists.
A big reason for its seamless progression is a clever implementation of time travel. While the last third of the game opens up with the acquisition of the Epoch, a time-traveling vehicle that allows for free exploration and completion of side quests, the majority of the game uses time gates to allow travel through different eras. Upon arriving in a new era, these gates, more often than not, will be sealed off or inaccessible until completing a certain number of tasks in this new time period. So, the party will set off to defeat enemies, recover items, and do whatever else is necessary to advance. In this way, each new era is essentially a chapter in the story, made up of several small quests to be completed. The overworld is somewhat similar to that of Crono's time period, yet it has subtle and not-so-subtle alterations to it depending on just how far back or forward you've traveled in time. Shifting between alternate versions of the same world was explored in both A Link to the Past and Final Fantasy III (US), but with Chrono Trigger's five different playable time periods, the developers were allowed to create a wide variety of locations to traverse, from prehistoric times with dinosaurs and the first humans to a dismal and haggard future that has already witnessed the destruction of the planet thanks to the game's villain, Lavos.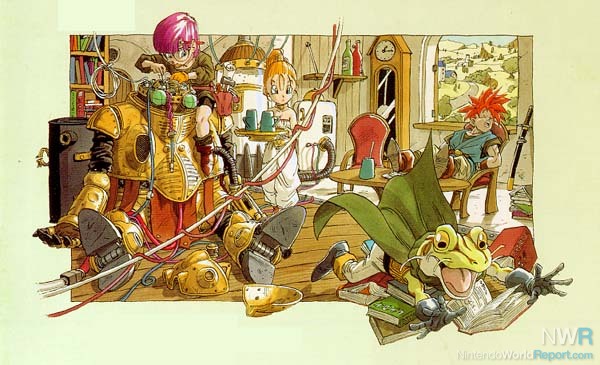 The cast of playable characters continues to grow with each subsequent time-hop, rounding out at a possible seven. While it can be argued that each character is a simple archetype (silent protagonist, "thou"-spatting knight, sentence-fragmenting cave woman, etc.), there is no denying the charm and lasting impression of each character. There are a few reasons why the characters in Chrono Trigger are so dearly remembered. First of all, the sprites, unlike those in, say, Final Fantasy III, are large and incredibly detailed. Each character is carefully illustrated and even walking around the screen is unique depending on your party, from Frog's hopping to Magus's floating just above the ground. The characters were designed by Akira Toriyama of Dragon Ball fame, and his drawings that litter the manual and box give life to these characters. Even the character portraits in the menu are greatly detailed and put the ugly images in Final Fantasy III to shame.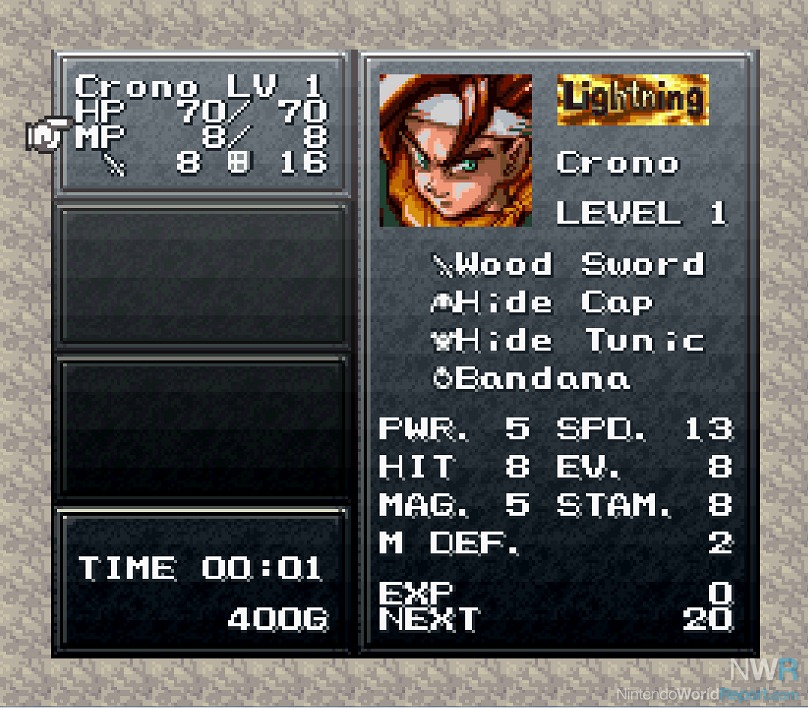 Secondly, each character is introduced in his or her time period, with a back story established through completing a series of quests. These meetings usually amount to more than "oh, my kingdom has been destroyed, I'll join you." You help these characters with their localized problems while also impressing upon them the grand scale of the Lavos attack and how it will impact each of their respective time periods. In this way, the cast is allowed to develop and ingratiate itself to the player. Moreover, each character's story generally involves some bit of misfortune or tragedy that, if explored to completion, can be improved upon or rewritten entirely. Focusing on the betterment of the cast itself versus helping random guy at the inn keeps the cast in the forefront of the story and firmly plants them in the mind of anyone who has played the game. They aren't just heroes, they are victims as well.
Lastly, that they each function differently in battle is no doubt a strong factor in the appeal of certain, if not all of the characters. Something that I felt slightly disappointed with in Final Fantasy III was that each character eventually gained the ability to learn any and every spell available in the game, thus tarnishing some of their individuality. However, that's not the case here in Chrono Trigger. Each character has a different and unique element that he is able to manipulate in using his special powers, meaning there is only one ice user, one lightning user, one fire user, though there is a little grey area there with the characters who are non-elemental. This restriction on who can use what makes preparing for different encounters in the game an involved decision, particularly once you can go so far as to kick Crono out of the party. Of course, this is without even mentioning the Double and Triple Techs that can be used depending on the combination of characters in your party. Sure, Crono can spin around and slash a bunch of enemies, but what if Lucca were to light his sword on fire first? Or what about using Marle's ice power with Frog's water? The combination Techs are fantastic and are another subtle push encouraging the mixing up of your party. Much like aspects of EarthBound, I'm astounded that this facet of Chrono Trigger's battle system hasn't been copied more. Hell, even the game's sequel barely used it.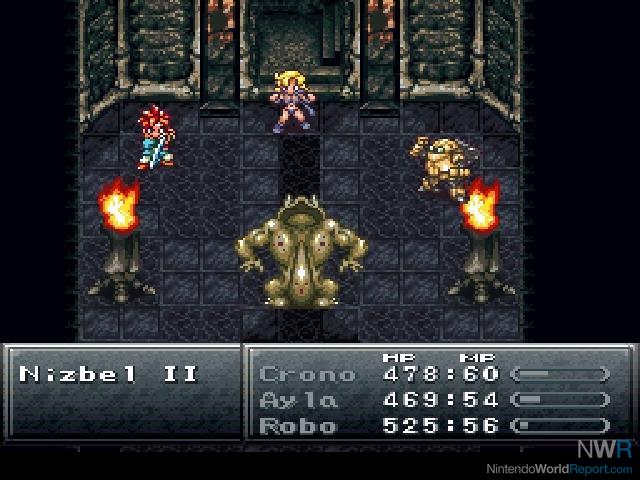 The multiple endings also tie in to the legacy of the cast, as defeating Lavos at different points in the game will give you a new ending, some of which are specific to whichever character you had most recently acquired. One ending even requires Crono (and Marle if you play it right) to defeat Lavos within the opening moments of the game. This daunting task proves manageable thanks to the inclusion (for the first time in a Square game no less) of the New Game + option, which allows the player to start the game with all his items and stats from his completed file. Before the advent of the internet, this feature encouraged players to tinker with the game in different manners to see just how many different ways they could beat the game. In one instance, your party is supposed to face Lavos at a point in the story and lose, yet with this feature you could actually win and unlock a new ending! With the advent of walkthroughs and YouTube videos, the charm of this feature has somewhat dulled, but it was a hallmark innovation in 1995 and it still remains one of the most discussed aspects of the game today.
It's hard to believe just how many great RPGs were released on the SNES, and with Chrono Trigger we also have one of the most beloved games of all time. Once again akin to EarthBound, Chrono Trigger is a series whose return has been coveted by fans for many years now, especially given the generally disappointing response to Chrono Cross. I mean, Chrono Trigger wasn't even available in PAL regions until the DS re-release! That's just crazy. Luckily, and a bit unlike EarthBound, Square Enix has made the original game available on a variety of platforms today, including the Virtual Console, the Playstation Network and the DS. If you haven't played this game, there really is no excuse now. Though, unless you can't get enough of loading times, please don't play the PS1 version.