The SNES 20 continues with the definitive Final Fantasy game.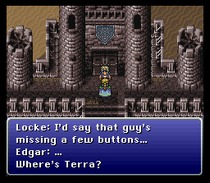 For some strange reason, Final Fantasy VII was and perhaps still is considered the definitive Final Fantasy game. There have been spin-off games, a teaser video to illustrate the power of the PS3, and even a shoddy movie that best captures that problem with the game: all flash and no heart. No, the greatest game in the long-running series and one of the Super Nintendo's top 20 games is Final Fantasy VII's predecessor, known here in the States as Final Fantasy III.
What strikes me first while playing through Final Fantasy III is the incredible pace of the story. A sense of urgency is established in the opening segments of the game and it only evolves as the story progresses. The vulnerability of the first few characters that make up your party is shed as they grow stronger and meet new allies. The tone of the game and your role in it subtly transforms as the cast goes from concerned rebellion to heroes of humans, Espers, and the earth in its entirety.
Of course, having a ragtag group of unlikely heroes join forces in order to defeat evil incarnate isn't exactly fresh and untrodden territory for the series, but the cast is so damn likable that you can't help but be wholly invested in seeing their quest through. While not as large, I'm incredibly impressed with how the game manages such a great number of characters versus a game like Chrono Cross, which gave very little substance to characters outside of the main few. Each member of your team here has a distinct background and, more importantly, motive for working against the Empire. A half-human/half-Esper woman manipulated into betraying her people? Check. The loyal knight of a kingdom whose entire population was wiped out by the poisoning of its water supply? Check. A lovelorn thief who has had his fiancé suspended in the moment just before her death (at the hands of the Empire), only able to repeat her final words, which just happen to be his name? Yeah, they've got that one, too.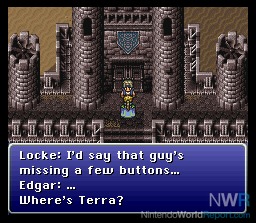 Unlike in Final Fantasy VII, the characters aren't just empty vessels with Materia slapped into them. While the team can (somewhat disappointingly) learn all of the same magic attacks, each member has a distinct special attack or function that is unique to them. For instance, there is the young boy discovered to be living amongst the wild monsters of the overworld map. He can learn the attacks of different monsters and then emulate them in battle. Or the Kung Fu master who can pull off huge special attacks when the player enters a specific button combination (for instance, X, Y, Down, and Up, which performs a suplex). The make-up of your party can heavily dictate the strategy implemented in battle and depending on what you are up against, choosing a poor combination of characters can serve to make things much more difficult. The uniqueness of each character in battle coupled with his or her back story and motivations has me constantly shuffling my party to make sure I'm using everyone equally. I can't remember the last time an RPG had me caring enough to do that.
Without a doubt, the game's greatest strength is how it weaves and winds through numerous set pieces and key moments. The game is made up of all these fantastic little instances, each one differing from the other. At one point, the characters are split into three separate parties as they attempt to flee an early attack from the forces of the Empire. Here, players are asked to control each party's journey as they make their way back to a central meeting point. These can be tackled in any order and, surprisingly, each party encounters wildly different circumstances. The thief is all alone, and must pass through an occupied town by stealing outfits from soldiers and merchants while making use of a series of underground passages in order to avoid confrontation. Meanwhile, two other characters must make their way through an enchanted forest and escape from a train which carries souls to the afterlife. These constant shifts in what the player is asked to do are the perfect way to ward off any sense of repetition or complacency.
The tone of the game does shift slightly in the latter half once you enter the ominous "World of Ruin" and must reconstruct your scattered team, but there are some exquisite scenes to behold and challenging dungeons to explore, specifically if you are a completionist by trade. While its focus may waver a bit here, Final Fantasy III still leaves on overwhelmingly positive impression once seen through to the end, and without a doubt it shines bright as the perfect refinement of Square's old Final Fantasy formula. More than that, on a system with an overabundance of great and notable RPGs, Final Fantasy III stands tall as one of the best games on the SNES and could easily be the best RPG available on the platform entirely.