Fungah! Foiled again!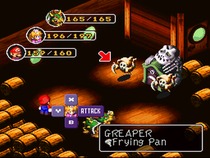 Super Mario RPG was, at the time of its release, ridiculous. The guys who made Final Fantasy were making a Mario game. It was a concept that equal parts exciting and baffling, and it was something of a climax for Square and Nintendo's relationship during the Super Nintendo era.
Super Mario RPG was also full of life, with colorful characters, almost all of which were created specifically for this game. There is Mallow, the cloud boy who thinks he is a tadpole; Geno, the possessed doll from space; Crocko, a recurring purple crocodile thief; Jinx, a diminutive and powerful sensei; Booster, a Wario-like creeper; Belome, a weird four-eyed beast that eats people; and Frogfucious, a wise sage-like frog. This is only a sample of the characters present in the game. Courtesy of an excellent translation packed with humor, all the characters stood out.
Bowser was also playable in the game, and he took his first step towards anti-hero status as he teamed up with Mario to defeat the game's premier villain - Smithy and his gang (dubbed the Smithy Gang). While Smithy isn't the best villain (he just kind of hangs out in obscurity for most of the game), his roster of villains are. Who can forget the Axem Rangers?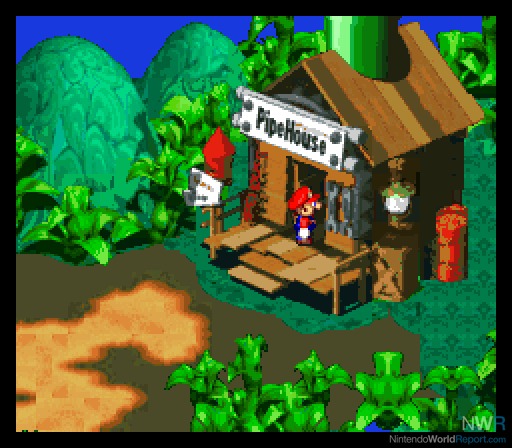 Outside of the humorous story, Super Mario RPG also had an innovative combat system that was hinged on timed button presses. This concept has been used in many later RPGs to great effect, but there is a certain charm to concept's origins in Square and Nintendo's baby. Regular attacks were more fun, and the special attacks could deal massive damage if you could time it right. There is even a reward in the game for getting a ton of jumps out of Mario's Super Jump attack in a row.
Yoko Shimomura, at least for me, proved her worth as a composer in Super Mario RPG. The bass-heavy soundtrack keeps a lovely light-hearted and upbeat tempo throughout the entire experience. It was a nice counterpoint to the somewhat somber musical tone of most other RPGs at the time. This soundtrack was one that, if provoked, you could probably dance to.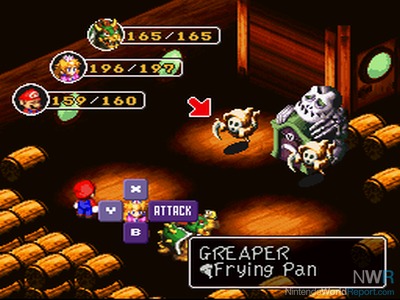 I have nothing but adoration for this game, and it is the only game I have ritualistic yearly playthroughs. This was the game that got me to go from a casual fan of Nintendo to a hardcore fan. Super Mario RPG is unabashedly my favorite game of all time. On a 10-point scale, it might not be the best, but no other game means more to me. I have strong friendships that are founded on this game.
Plain and simple, Super Mario RPG is a worthy member of the SNES 20. It never made it out to Europe, but fortunately everyone can play it now since it is on Virtual Console. While there will likely never be any sequel to this game, it's spirit has been carried on to the Paper Mario and Mario & Luigi series. Those games retain the charming tone and fun light-hearted gameplay present in Square and Nintendo's last hurrah for the SNES era.