I still can't get over the fact she's a girl. . .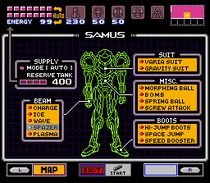 Super Metroid helped immortalize Samus Aran and solidify her place in video game history. This historic game is known far and wide as one one Samus' greatest adventures. The third installment of the Metroid series (although it takes place seventh, chronologically in the series) begins with Samus chasing after the dreaded Ridley, leader of the space pirates, after the villain kidnaps a baby Metroid, who was rescued by Samus in Metroid II. Samus lands on the planet Zebes and the adventures unfolds in an organic nature, telling a story not with words, but with the environment.
The action-adventure platformer brought back everything great from the previous games (like save points and special beams) while adding new elements that made the game unique. The game introduced the inventory screen to the world of Metroid, as well as letting everyone's favorite female bounty hunter combine certain beams together. But that all comes second to the sheer thrill players get when they run from room to room, fighting aliens and hunting down that winged space pirate.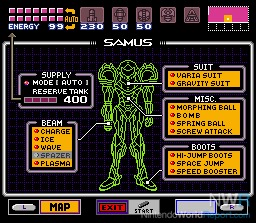 This game was and still is heraled as one of the greatest games Nintendo has put out. Popping up constantly on lists of the greatest games ever made, Super Metroid set the gold standard on the series and the genre. We haven't gotten into the wonderful mood-setting music, which was brilliantly executed throughout, as well as the clever puzzles, ability to sequence break, and intimidating bosses. Oh yeah, and there's that wonderful ending that puts a huge bow on the experience.