Yoshi goes from mode of transportation to a fortified Nintendo hero.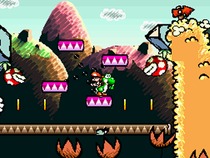 It's funny how often the side characters become the heroes in their own stories, at times becoming even more popular than the main character. Such is the case with Yoshi, a character first introduced as a sidekick character in Super Mario World, and now a popular game hero. This is thanks to Super Mario World 2: Yoshi's Island, yet another magnificent platformer for the Super NES.
While Yoshi had starred in his own games, like Yoshi and Yoshi's Cookie, Yoshi's Island was the game that truly solidified him as his own unique character within the Mario mythology. The title claims that this is a direct sequel to Mario's premiere Super NES outing, Super Mario World. In reality, in terms of gameplay the two games couldn't be further apart.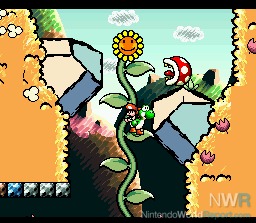 Mario does have a role in this game, not as the plucky hero but as a defenseless baby who is under the constant threat of Kamek and his henchmen. Yoshi and his rainbow-colored friends decide to protect Baby Mario as well as find his brother. That's the theme behind the game: protection. Baby Mario will be on Yoshi at all times, and when he is attacked, Baby Mario floats away in a bubble, giving Yoshi only a small window of opportunity to rescue him.
That doesn't mean that Yoshi was totally defenseless. His classic tongue ability returns. He is able to swallow enemies, then turn them into eggs that serve as ammo. Using a simple yet very effective aiming system, Yoshi could defeat enemies and bosses, as well as uncover new areas.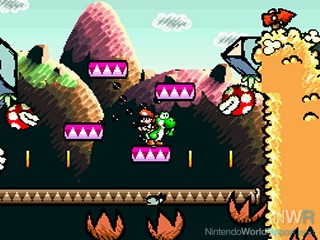 That's why the game stands on its own from the other Mario platformers. This was a game made exclusively with Yoshi in mind, much like Rare's Donkey Kong Country series was just for Donkey Kong. It does borrow some ideas from the Mario franchise, but ultimately this is Yoshi's show, and what a damn fine show it was.
The other high quality of Yoshi's Island was the graphics. Much like Donkey Kong Country 1 and 2, Yoshi's Island was released at a time in which 3D graphics were slowly but surely taking off across the globe, making people wonder if the classic consoles still had what it takes to deliver a visual knockout. The game was unique in that rather than going for a super-detailed presentation, it went for a child's storybook aesthetic, making everything look like it was drawn on paper with chalk, pastels, finger paints, and crayons. Regardless if some felt it made the game look childish, it was a winning presentation that captured the imagination of players young and old.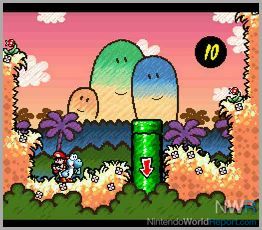 Not only that, it actually helped in the enjoyment of the game. The technology behind the game allowed the levels to have a level of visual depth, giving the player a lot of places to explore as well as be captivated by. The enemies, and especially the bosses, were able to be intimidating, giving us some creative and imaginative battles.
This type of look would later be re-created for its successor, Yoshi's Story on the Nintendo 64, and then later on the Wii with Kirby Epic Yarn. But Yoshi's Island was one of the first to do it, and did it great.
Super Mario World 2: Yoshi's Island helped the character gain an identity outside the Mario universe, and did so with extremely polished gameplay that borrowed ideas from previous games as well as add its own for a unique experience that felt familiar yet innovative. In the process, it also gave us one of the best Super NES games ever made.