To celebrate the 20th anniversary of the Super Nintendo, we look at 20 awesome games for the system.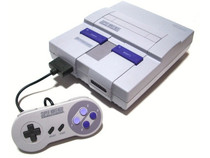 20 years ago, we were all a lot younger, some more than others. Truthfully, I don't remember a time without the Super Nintendo (I was 3 years old when it came out), but I know a lot of our staff and a lot of you remember such a time. I'm sure the hype was off the charts, but 20 years ago, we were a mere 19 days away from the system's North American debut.
We collectively duked it out to figure out a list of our favorite Super Nintendo games. Arguments were had, and friendships were lost (mainly everyone hates J.P. now because he likes neither Link to the Past nor Super Mario World), but eventually, we settled on a 20-game list. Enjoy the list, presented in approximate chronological order. Naturally, we begin with a launch title...
For some discussion on the SNES 20, check out Episode 255 of Radio Free Nintendo!