Dudes without shirts. Aliens. Vaguely like Arnold Schwarzenegger movies.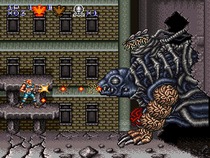 In 1992, Contra followed in the footsteps of its stablemates Gradius and Castlevania by making the jump from NES to Super NES, and the results were nothing short of spectacular. Contra III: The Alien Wars saw Konami use every trick in the Super Nintendo's sprite-manipulating book to take the series' run-and-gun formula to dizzying new heights, creating an action classic that would remain unsurpassed on the platform for the rest of its lifespan.
Viewed in screenshots, Contra III may appear to be a fairly unremarkable 16-bit makeover of a popular 8-bit franchise, and it's fair to say that only modest gameplay tweaks were made to the Contra template, such as the ability to switch between weapons. However, as soon as you see a jet bomber zoom towards the screen as it scorches the landscape of the game's very first level, the developers' intent becomes abundantly clear: to use the power of the Super NES to build action movie-style set pieces on a scale never-before-seen on a home console.
Driven along by a brilliant soundtrack owing more than a little to Alan Silvestri's score for Predator, Contra III's side-scrolling levels are densely packed with memorably mind-blowing moments that only escalate as the game goes on. Just when you think it can't get any crazier, you find yourself dangling in mid-air from a huge missile, and then leaping from one to the next in order to blow a colossal alien craft out of the sky.
These adrenaline-pumping sequences are also punctuated by an intimidating array of bosses, ranging from deadly mechanical weapons to grotesque organic monstrosities. The frequency of these encounters is exceeded only by their variety and creativity, culminating in perhaps the most fearsome final showdown in Super NES history: the battle with Red Falcon, a multi-phase nightmare of a last boss who invites you to choose the method of your demise from the Roulette of Death spinning around its disembodied brain.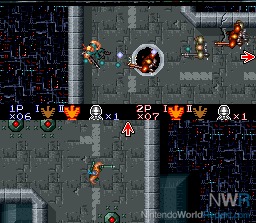 In typical Contra fashion, a couple of overhead stages offer some respite from the relentless pace of the side-scrolling sequences, with sprite rotation being used to put a different spin on the level style introduced to the series by Super C. And of course, if it ever gets to be just too much to handle alone, you can always ask a friend to help you take down the alien hordes in co-operative multiplayer, a signature feature of the series taken to new heights of enjoyment by sharing in Contra III's succession of "holy ****" moments.
Not long after Contra III's launch, a number of its creators struck out on their own to form Treasure, and both they and their former employers at Konami spent the rest of the 16-bit era concentrating their action expertise on Sega's Genesis with titles such as Gunstar Heroes, Alien Soldier, and of course Contra: Hard Corps. Thus, Contra III: The Alien Wars marked the apex of achievement in the genre on Super NES, but what a high-water mark it was. In an age of entertainment dominated by unabashed machismo, nothing flexed the Super Nintendo's muscles quite the way Contra did, and we loved every gloriously excessive minute of it.