Dracula's super, thanks for askin'.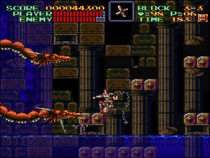 You young wiper-snappers may not realize this, but there are two distinct kinds of Castlevania games. Oh sure, we're all familiar with the modern "Metroidvania" games that started with 1997's excellent Symphony of the Night, but the Belmonts were fighting Dracula long before Alucard woke up grumpy. These were strictly level-based sidescrolling affairs, and many (including me) consider 1991's Super Castlevania IV to be the pinnacle of its breed. For its time, and long after, no game utilized the SNES' hardware capabilities better. The game has big, beautiful characters that are sometimes made up of several distinct sprites; rotation effects, some of which border on 3D; an unbelievably rich musical score; and virtually no framerate issues, even with lots of sprites onscreen at once. One might call the story an "enhanced retelling" of the original NES game: Simon Belmont treks across ten large levels, half of which actually lead up to the castle gates, and then battles his way to the highest tower to face Vlad in single combat.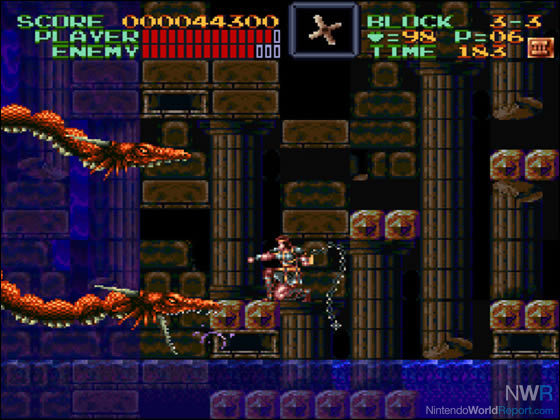 "By the Power of Greyskull!" Wait..
Of course, series staples like subweapons remain intact, but Simon has some new whip-tastic moves up his sleeve: his whip can be held limp, allowing the player to snap it in any direction. But better still, Simon can whip the Vampire Killer in eight directions—a huge help during the game. Finally, Simon can (rather unrealistically) use his whip as a Grapple Beam, allowing death-defying swings from here to there. The game is available on the Virtual Console for a perfectly reasonable $8, so if you haven't experienced this SNES masterpiece, now's the time.