We cheated, but hey, it's *technically* only one game cartridge.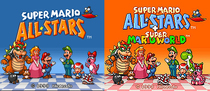 As unique, as amazingly open and creative and as spectacularly fun each new Mario game is, none of them would be where they are without the original NES games to set the groundwork.
The first version of Super Mario All-Stars was a celebration of those original stage-setting masterpieces to give new adopters the chance to see the origins of the fast-growing fame of Super Mario. It contained Super Mario Bros 1, 2, and 3, as well as the previously Japan-only version of Super Mario Bros 2, which was retitled as "The Lost Levels" due to its striking similarity to the first game and the significant ramp in difficulty.
For this compilation, all four of the games received a complete graphical overhaul while staying true to the original sprite designs. There were major improvements, such as twinkling stars in the night sky and wavy, animated water effects added to the backgrounds. Bowser's airships in Super Mario Bros. 3 featured flashing lightning and storm clouds, adding a lot to the atmosphere. Like the graphics, the music was also fully upgraded to suit the best of the era, with a somewhat caribbean flavour added to some of the instrumentals. Sound effects were largely borrowed from Super Mario World, but that was no problem – most of those were enhanced versions of the original NES beeps and boops anyway.
Additional little surprises were packed in here and there, such as the Toads at the end of each world in Super Mario Bros. acting differently each time you freed them. The various Kings of each region in Super Mario Bros. 3 were also changed into a completely new set of creatures by Bowser's kids, all of them throwbacks to earlier Mario games.
Another new change was the ability to store several save files for each of the four games, preventing the need to restart from the very beginning whenever you restarted. In the case of Super Mario Bros 3 and Lost Levels, this was a mighty handy feature.
Overall, the game's ultimate result was like cramming four delicious desserts through a food compressor into one solid chunk of sugary goodness, overflowing with a cornucopia of flavours and experiences that seemed too immense to be contained in such a small package.
Its coming was vastly celebrated and it quickly became a pack-in game that was sold alongside the SNES console – and that's how I got it.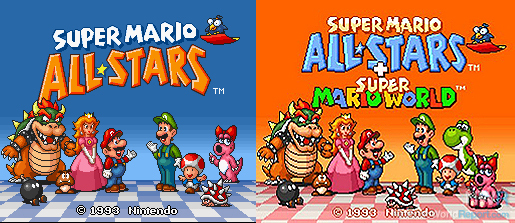 When Yoshi arrives, the sun sets. Everyone knows that.

A year after its release, Nintendo came out with a USA-only update known as Super Mario All-Stars + Super Mario World. The first four games were identical to the previous versions, but this version of Super Mario World featured some alternate sprites and animations for Luigi, who until then was just a green-painted sprite duplicate of Mario.
And that brings us to Super Mario World. The very first appearance of everyone's favourite berry-eating, egg-pooping dinosaur, Yoshi. Super Mario World was one of two launch titles for the SNES in Japan (the other being the original F-Zero), and still today remains one of the strongest titles in Mario's side-scrolling legacy.
According to the story, Mario, Luigi and Princess Peach, still known as Princess Toadstool at this time, have taken a vacation to Dinosaur Land to recuperate from their hardships in Super Mario Bros. 3. Unfortunately, Bowser and his kids had previously crash-landed their airship on the island after fleeing from their last defeat, and promptly took over the place. While the Mario Bros. set off to explore the jungle, Peach is kidnapped once again, and it's up to the boys and their new dino hatchling friend to save the day.
Super Mario World was the largest Mario game to date, featuring a huge variety of level backdrops, each with their own unique challenges. Besides the standard fields, caves, oceans and castles of the past, there were now ice caverns, dense forests, rocky mountain ranges and sky-high bridges. Boos, first appearing in the castles of Super Mario Bros. 3, were now given haunted house levels where they reigned supreme, bending the rules of the standard "run right and reach the goal" formula with hidden ghostly doors and moving pitfall traps.
While advertised as having 96 levels, it wasn't quite that many – however some levels now featured multiple exits, requiring you to replay them and search for different, hidden paths that would ultimately total 96 level exits. This was a great new feature to extend the difficulty of the game, and some of the secret exits were very cleverly hidden.
Alongside the standard power-ups of the Super Mushroom, Fire Flower and Starman, this game featured a feather that would bestow Mario with a cape that worked similarly to Raccoon Mario in Super Mario Bros. 3, but this time Mario would be able to fly indefinitely with precise arial maneuvers, as long as he didn't hit an obstacle. The cape also could double as a parachute, and even allow Mario to dive-bomb the ground with a massive quake that knocked out every enemy on screen.
A few of the quirkier new items to the game were a balloon that caused Mario to inflate his body for a short while, a triangular block that allowed him to run vertically up walls and a series of on/off switch blocks that did such things as changing platform railway tracks or turning on a mirror ball.
And then, of course, there's Yoshi. Shigeru Miyamoto had wanted to include an animal friend that Mario could ride on since the days of the NES, but it wasn't until the SNES that the console had the raw power to be able to process that kind of sprite linking. Upon finding an egg, Mario would have a dino-mount to travel around on, which not only provided faster movement and higher jumping, but Yoshi could spit out a long, prehensile tongue to swallow enemies and berries. Tougher objects such as Koopa shells could be held in his mouth to spit out at other enemies, and different-coloured shells would give different abilities to Yoshi. If you got hit while riding, Mario would be knocked off his back, and Yoshi would go into a panic and run along until he fell off a cliff or Mario could jump back on.
One of the best aspects of Super Mario World was the soundtrack. While it was almost entirely the same tune played a dozen different ways, it was one of the most memorable tunes in Mario's history and each version was as recognizable as the last. Being made at the start of the SNES' lifespan meant that the instrumentals were still fairly beepy compared to later games like Donkey Kong Country, but I dare you to listen to the end credits theme and not imagine a little 16-bit orchestra somewhere offstage. By the way, did you know the credits music was a heavily remixed version of the main theme from SMB2?
Anyone who hasn't played this for whatever crazy reason should get it as soon as humanly possible, it's readily available on the Wii Shop Channel for 800 points. The sheer amount of secrets to discover (including an entire hidden world!) will keep you searching for a long time. The unique cartoony graphic style sets it apart from all the other games in the series and it's a great look back on where many of the Mario enemies, level designs and play styles first got their debut. Sidescrolling platforming at its best.