Perhaps the rarest and most coveted member of the SNES 20.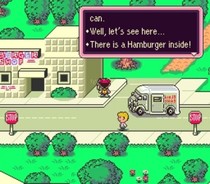 When EarthBound comes up in conversation, just about the only sound that resonates louder than the chorus of praise it receives is the bemoaning of Nintendo, who continue to not put the damn game on the American Virtual Console. Perhaps you, the trusty reader, have never played EarthBound and thus don't understand why people are so up in arms over the disappearance of this series in the Western Hemisphere, or why fans went through the trouble and translated its sequel before putting it online for all to play. Perhaps this little trip down memory lane will inspire you to pick up a torch and pitchfork and march alongside the rest of us straight to Redmond, Washington.
Though EarthBound is littered with innovations and anti-tropes that will be discussed in just a bit, the real heart and soul of the game is its quirky sense of humor and excellent localization. While your party, made up of children, is tasked with defeating an evil entity whose power has corrupted its ability to reason, allowing it to act on its wildest and most murderous desires, the game somehow never takes itself too seriously. Whether you are helping a Blues Brothers-esque band pay off their debt to the owner of the local Chaos Theater (Scott Pilgrim fans should know the name) or using "Zombie Paper," a sticky trap not unlike fly paper, to capture and immobilize an entire zombie outbreak, EarthBound always offers a zany and light tone in place of any real seriousness. The excellent and oft tongue-in-cheek writing is the source of this tone, and Nintendo of America really deserves some credit for taking the text and making it not only funny but culturally relevant to us here in the states.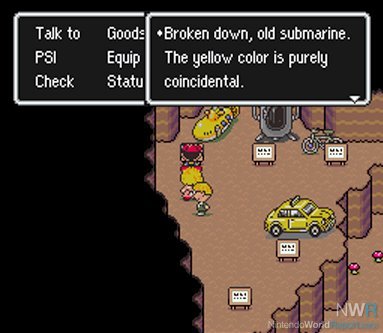 This tone is carried from the writing straight on to the music, which is quirky at times and downright screwy at others. Check out this playlist on YouTube to get an idea of just what we're working with here. The soundtrack is made up of this weird mishmash of original tunes, tracks heavily influenced by modern music, and even complete samples of existing songs. In fact, it is speculated that the reason for the game never being released on the Virtual Console is due to licensing issues involving the variety of sampling used. For more detail on that, as well as some great examples, go here.
As mentioned earlier, the game does a lot of new things that, incidentally enough, still don't show up much outside of the series. Initiating combat is a great example of this. First of all, enemies always appear on screen and can be avoided all together if you choose, much like Chrono Trigger. However, the game also uses enemy placement and how you collide with them to determine preemptive strikes. Come up behind an enemy, and you get first dibs. However, should an enemy sneak up on you from behind, it will get the opening attack instead. Even better, if your level is far above that of a weaker enemy, it will actually run from you, allowing you safe passage through earlier areas in the game. Want to kill the Spiteful Crown fleeing helplessly from you since you are, in fact, feeling a little spiteful for all the trouble he gave you in the beginning of the game? Chase him down, and the game won't even initiate the combat screen, you will simply win the battle and earn a few experience points. Why oh why hasn't this feature been replicated in current day RPGs?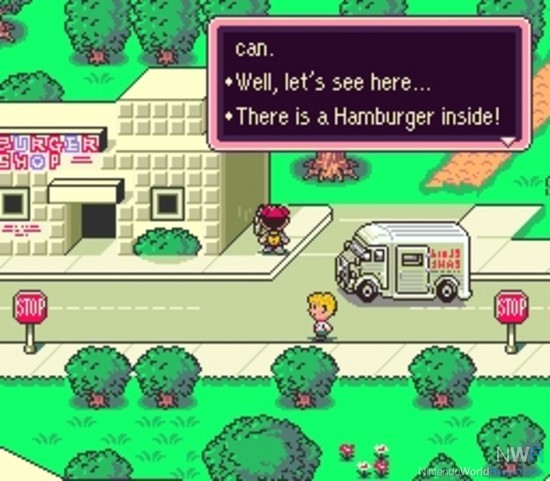 EarthBound also sheds the fantasy element that was a genre-staple in favor of 1990s Americana. Yo-yos, baseball bats, toy guns, and frying pans make up the arsenal at your disposal, health is replenished by burgers and soft drinks, and you can even purchase a teddy bear from the local toy store that will attract the ire of enemies until he bursts into a pile of fluff upon taking too much damage. The game also uses this "modern" setting to make a little more sense out of saving the game and accruing money. Rather than saving your game at random shiny spots, you instead use the telephone to call your dad and tell him about your journey to that point. He'll make note of it for you, and might even recommend you take a break if he notices you've been playing for a few hours already. He also deposits money into your banking account based on the number of enemies you've killed, which can be withdrawn from any ATM. Yup, no more collecting coins from the carcasses of your felled foes, good ol' dad gives you an allowance instead.
A sincere game with style to spare, EarthBound is just a wonderful little experience to behold. Whether its shocking you with things you haven't ever seen done in an RPG before or making you laugh at some ridiculous bit of dialog or circumstance, EarthBound is a game that has aged incredibly well and demands to be played, even if the means to do so today are complicated and obtuse. Continue to clamor for the triumphant return of this series to America, and perhaps someday Nintendo will oblige, but until then, we have EarthBound, forever frozen in a snapshot, proudly mouthing the words "fuzzy pickles."