by John Rairdin - 9:38 am PST
Discuss in talkback! Source: Team 17
A big, wide, open-world of crafting and friendship.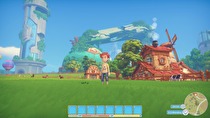 Team 17 confirmed this morning that open-world life simulator My Time at Portia will be arriving on Switch later this year. Developed by Pathea after a successful Kickstarter campaign, My Time at Portia invites players to explore, harvest, craft, and develop relationships in their town. The game also... Read more...