Sleeker, faster, and more streamlined.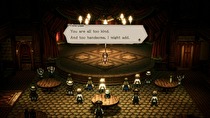 A new English-subtitled video on Square Enix's Japanese Youtube channel has detailed improvements made to Project Octopath Traveler following the demo release last September.
The development team confirms that changes will be coming to the speed of the game, including a faster default movement speed, an auto-run available with a full tilt of the analog sticks, and an even faster run speed via the B button. The faster run can also be used to increase the game's encounter rate. A cutscene skip option, as well as a replay option, will also be present in the final version.
Some of the environments have also been changed to make navigation easier, and a higher brightness setting will be present in the shipping game. The battle system will also be refined from the original demo, with a max party size of four revealed.
Over 45,000 people worldwide responded to the survey conducted when the demo of Project Octopath Traveler released following September's Nintendo Direct. The full game is still slated for a 2018 release.