Now with more headpats.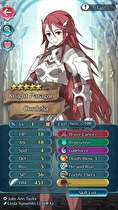 Fire Emblem Heroes will have their first anniversary bash starting Friday, and the plans were laid out in a video posted earlier this evening.
A special bonus of 50 orbs will be given to all players who log in between the anniversary and March 7, with another 50 available through special daily maps based on previous summoning banners. A double experience/skill point event will also commence with the update. Developer challenge maps will begin on Sunday the 4th, with "Grand Hero" revivals and special training maps for units beginning on the 9th.
The orbs collected can be used on two special banners: A Legendary Hero Banner featuring an Ike designed around Fire Emblem: Radiant Dawn at tonight's update (featuring 8% starting appearance rate for one of twelve 5* exclusive units) or a Hero Fest banner (5% starting rate, 4 units) on the 2nd.
A new game mode will be added on February 9th (8th, 11pm Pacific) and run for two weeks known as Tap Battle. The Illusory Dungeon will be the first stage, which will begin with up to 40 stages and run to 100 by the end of the event. Rewards for the event are unknown.
Finally, a poll will open at 10pm ET Thursday to determine the most popular unit among only units in Fire Emblem Heroes. The winning unit will be given to all players as a 5* unit.