Handsome, proud and strong.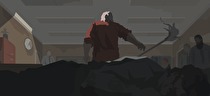 A key member of the Switch's adventure game lineup will come back for a second round this year.
This Is The Police 2 has been tagged for a 2018 release on Switch. The sequel will carry on the adventure and simulation game combination of the original, which involves managing a police force and making decisions at the crime scene.
In the sequel, the player character will be voiced by Sarah Hamilton, who has previous experience in voice acting for adventure games as a regular in the Longest Journey series.