Two more critically acclaimed action games for Switch.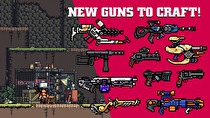 Following the announcement of Dead Cells earlier today, two more indie hits will come to Switch.
Tribute Games have announced that their popular treasure hunting title Flinthook and side-scrolling shooter Mercenary Kings will come to Switch, with the latter arriving on February 6 in a "Reloaded Edition". Flinthook is an action title that revolves around exploring procedurally generated spaceships with a hookshot, while Mercenary Kings is a scrolling shooter that previously released on PlayStation 4 but will have new gameplay elements and balance on Switch.
Both titles will also receive a physical release through Limited Run Games. Prior print runs for Flinthook on PlayStation 4 were approximately 4500 copies.