Jools Watsham provides a behind-the-scenes look of Atooi via his blog.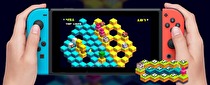 Developer Atooi dropped some news today via a blog post from owner Jools Watsham, including a surprising announcement of a new Switch title "Soccer Slammers". Watsham describes it as an arcade soccer game that takes inspiration from NBA Jam that promises 2-On-2 fast-paced gameplay.
Soccer Slammers will be coming out in time for the World Cup, which starts in mid June.
Atooi certainly has a busy 2018 Switch schedule, with both imminent releases Xeodrifter (February 15) and a port of the mobile title Totes the Goat arriving soon to the eShop. Jools also went on to note that a playable version of the long-awaited Treasurenauts will be at E3 this year, and also mentioned plans of an upcoming Kickstarter campaign for Chicken Wiggle: Re-hatched.
You can read the full blog here.