An option for the memory-starved role player.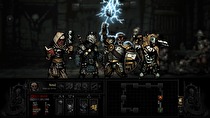 Darkest Dungeon will soon come to retail on Switch.
The Lovecraftian RPG which released on the Switch last week will release on a Switch card in March with the assistance of Merge Games. MSRP for the Switch edition will be $39.99 and the currently available DLC packs (The Crimson Court and The Shieldbreaker) will be included.