The Steam Early Access hit is making its debut on all consoles this year.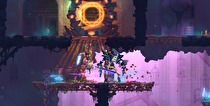 One of Steam Early Access's biggest success stories is coming to Switch this year.
French developers Motion Twin have announced that their side-scrolling action RPG Dead Cells will release on Switch among other consoles in 2018. No further specifics about the release date are available, but it will be after the game leaves Steam Early Access. To date, the early version has sold over 600,000 copies.
Dead Cells is an action platformer that sees the player exploring a randomly generated dungeon and avoiding the threat of permanent death.